This is my monthly report of our personal net worth progress for February 2019.
I'm sharing this to show how important it is to track your net worth and seeing the progress. This is what I also expect and advise my clients.
From tracking your personal net worth and see how much you are worth, you can learn what works and what you should change in your finances.
It's the first step to get you going and know where you are financially towards your goals.
If you'd like to also see how much you are worth the way I do, I created a version of it, especially for my readers. You can get it here.
Also, if you'd like to read the previous report to get the flow of things you can check it here – January 2019 personal net worth report. This is the page with all previous reports is here.
If you don't know what the net worth definition is, check it here.
Let's jump in!
OVERVIEW
There were a lot of things happening this month.
This month our net worth grew in additional 1.45% and savings rate is 29.19%
Must say it's hard for me to see the savings rate that low for us, but this is because we had additional expense regarding the UK real estate investment. So, more on that coming up.
But without that expense savings rate would have been very close to 50%.
Envestio: Not too much news with Envestio this month.
Just that their investments are gone really fast and most of the times I'm not quick enough putting funds in their new projects.
What I did to improve this is using a different email address which I asked to change. This way I'll get the notice faster to my inbox and hopefully, I'll catch those on time.
Small change, let's hope for a big difference.
If you do decide to join Envestio through my link, I'll get some bonus from them to invest more in my portfolio and you'll get an extra 5 € bonus + 0.5% cash back for the next 270 days after you invest
Crowdestor: I decided to diversify to another crowdfunding platform which is called Crowdestor. I'm glad to share a review of Crowdestor by my friend Jorgen Wolf, who even visited their office in Riga.
I didn't really know where that decision will lead me…Read on, I'll save you a few hours of research…
I was approved fast with Crowdestor which was great. The next step, of course, is funding my account.
Naturally, I decided that I'm interested to use Covercy to make that transaction as Israel's bank fees for foreign currency are outrageous (22.5 USD minimum per transaction! Time to negotiate with the bank…)
After a day, Covercy got back to me and rejected my transaction saying that they only work with licensed companies under their terms and conditions. Crowdestor are by the way a licensed company in Estonia.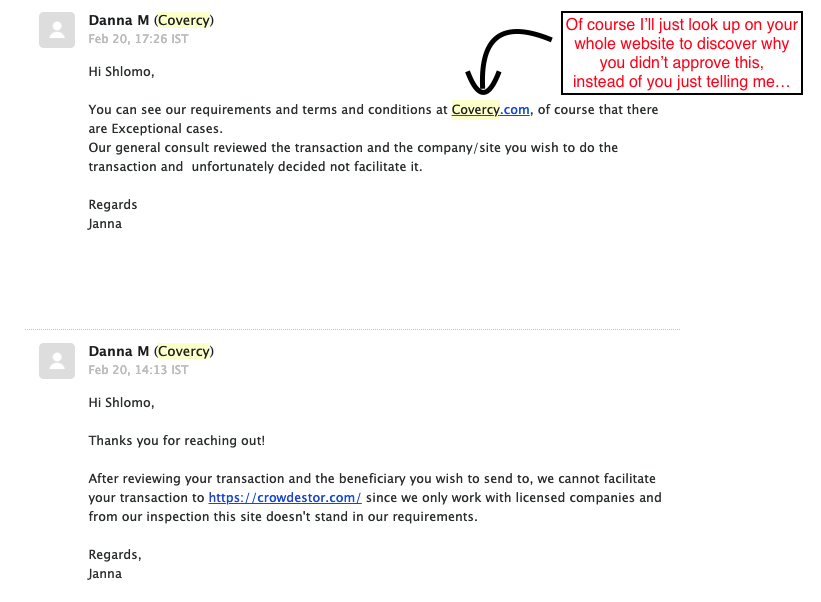 So, I had to start finding another way to transfer money internationally.
Bank transfer is not worth it for now. It's not only that the transaction fees are outrageous, it's also that you get crappy currency conversion rates from the bank.
Revolut was my next choice.
I managed to open an account with them. The first thing you need to do in order to start using them is top up 10 EUR/USD/GBP into your account.
To make things short here I'll just say that I couldn't use my credit card nor Google pay for this.
This is because Revolut is blacklisted in Israel's credit card system of a company that deals with gambling (Not true) and cryptocurrency (They have a relatively small operation of this, as it's new and I wasn't planning on using that).
So, what should I do next? I had to find a workaround.
I had to ask a friend to top up 10 EUR to my Revolut account.
Must say, this is really annoying how credit card companies and classic banks are protecting themselves and preventing the best service for their clients.
A better approach would have been to give clients a good equally priced services and then I wouldn't be looking at other options.
The next step was funding my Revolut account. This time my wife's employer agreed to pay her salary to the Revolut account and not to our bank.
It was quite a hassle figuring all this out. At this very moment I'm waiting for the money to arrive into my Crowdestor account sent from my Revolut account and then I'll make my first investment in Crowdestor.
What a ride!
UK property: Still working on this. I'm now studying the survey report was made end of February in the property to decide of the next step. One thing I already learned is that the requested price is too high. So, there is room for negotiation.
All the surveys and checks really take a long time and are also really expensive.
This month tracking improvement: There weren't any calculation improvements this month.
However, crunching those numbers really takes me a lot of time. So, using some excel magic and formulas along with help from my virtual assistance, I'm able to cut a few minutes every month on this from now on, and I intend to keep improving my system until it will be as seamless as possible.
I'm thinking of writing a post explaining this, which will help you with your net worth calculations and monthly tracking. Let me know if you are interested in the comments so I can decide if this is really valuable for people.
Let's dive into the details of our personal net worth.
OUR PERSONAL NET WORTH ANALYSIS
Loans: No news here. I'm at the best position for my current loans.
US & Israeli Stock portfolio: I had a slight increase this month on the portfolio. I have a relatively large amount in cash, so I hope to make more stock purchases in the next 2 months.
US Real estate investment: Nothing new on this one. I'm waiting to get an update of either the sale of the rest of the properties or additional check of the rent collected. It's usually happened around late summer time.
Bitcoin: Bitcoin's value went a bit up this month. My Hashflare Mining is not profitable anymore by the way. I wonder if they will ever resume. They are selling now other crypto contracts on their website, but not Bitcoin.
Though currency exchange rates of EUR and USD vs. ILS (which is our main currency) dropped, we still managed to have our net worth in the positive territory this month.
The drop on the exchange rate though brings in opportunities too. The Crowdestor investment I mentioned earlier was made at a good rate. So I got more EUR.
PERSONAL LIFESTYLE AND PROFESSIONAL LIFE UPDATE
Travel: We are already halfway into our workation in Sri Lanka. We had a relatively long stop in a town called Dikwella.
We found a place to stay there, sent our daughter to a local kindergarten and also found a good co-working space to work from.
Check out Verse Collective if you are around. They have a place right on the beach, with great internet connection and good vibes!
We are now on a two-week trip inland. So, we are not as static. We move every few days to a new place. The plan is in a few days to have another longer stop in Kandy which is the 2nd largest city in Sri Lanka for 10-14 days.
This is from Verse collective.
This is just outside of their place.
(Yes, it's a filter, I admit. But still beautiful place).
I also took a few Sinhala classes. So, I'm now able to do a very basic reading as I understand the system.
I also know the words for colors, some animals, fruit, and vegetables. Cool huh?
My Avid companion for learning was my 3-year-old daughter. I took her to the classes and some words she remembers even better than me.
Interview: I was interviewed to The Becoming Superhuman Podcast by Jonathan Levi. It was a cool interview. We spoke about our lifestyle and about money.
Jonathan Levi, is a top instructor on Udemy. He has over 175K students and holds more than 10 successful courses. I took his speed reading course which is very intensive. I didn't complete it because of that, but it's a high-quality course.
Related: Check out all Jonathan Levi's courses on Udemy and specifically the course about speed reading I took.
Become a SuperLearner 2: Learn Speed Reading & Boost Memory
We spoke about how to align your life and lifestyle goals with your finances. It supposes to be published at the end of April, so stay tuned.
Related: Interested to align your life and lifestyle goals with your financial goals? Interested in eliminating money as a source of stress and gaining confidence in your future finances?
I invite you for a free financial fitness call with me. Just click the link and book a time on my calendar.
China Business Cast: For those who might not know, I also co-hosted a podcast for the past 3.5 years called China business Cast where I interviewed along with my good friend and entrepreneur,Mike Michelini, entrepreneurs in China or that have a China-related business.
I'm saying 'co-hosted' because this month both Mike and I handed it to a new host, Jons Slemmer.
He is on an interesting FIRE journey,
Anyway, the podcast was something that opened many doors for me and was an amazing experience. Recently I decided that I wanted to focus only on Free Financial Self and also I didn't have the same energy as when I started co-hosting the show. So, I'm glad we found it a new home.
Bottom line, check Jon's blog and of course subscribe to China business Cast. If the words China and entrepreneurship are something you are interested in.
I'll always have a warm corner in my heart for this podcast.
Reading: I'm still reading the book about the History of Ceylon. It's a slow read for me.
I finished a book called: The ONE Thing: The Surprisingly Simple Truth Behind Extraordinary Results by Gary Keller
To be frank, I had higher expectations from this one. It's not bad, just not as many insights as I expected. And the main message repeats over and over. So, you get the point…
Here is my reading challenge update:

Shlomo
has
read 4 books toward
their goal of
18 books.
I started another book called: How to Raise a Wild Child: The Art and Science of Falling in Love with Nature by Scott D. Sampson.
The reason it's interesting for me, as it's really important for me that my kids will love nature and would want to experience and explore it. This book is just about how to do this. I randomly bump into it when looking at the kindle unlimited list.
I invite you to follow my Goodreads profile and read along with me. I'd love to share ideas.
Lifestyle: So as I mentioned, I'm able to read basic Sinhala without understanding the meaning of the words yet. I train to read when we go on buses here as they have the names in English and Sinhala. I then compare the writing.
Do I want to know even more Sinhala? I'm not sure. I tend to say this is enough for me as finding a teacher here is hard. Our next long stop is in Kandy. so I might still try to find one if it won't be too hard.
I didn't do any Yoga, and kite-surfing is still on the plan once we get to a place called Kalpitiya in a few weeks.
Exercise: I'm bad at creating habits. But I decided to give it a go again. I started super super small 3-4 weeks ago with a short morning routine. I drink a glass of water just when I wake up and I do stretches and push-ups.
My goal with the stretches is being able to touch my feet without bending my knees for the first time in my life.
With the push-ups, I started at 5 push-ups every day and I'm adding a single push up every week. So, I'm now doing push-ups a day. I know it's nothing, but the habit for the exercise part and the water drinking already kicked in. So, it works.
The average time for building a habit, by the way, is 66 days.
FIWE 2019: I got accepted to Financial Independence Week Europe retreat which is awesome. That will be in Budapest beginning of May. I'm really excited about this trip and looking forward to it. It's a bunch of FIRE (Financial Independence, Retire early) guys.
We will have a weekend of a structured program of presentations and workshops from the other participants and then a few more days of chilling and hanging out together in Budapest doing interesting activities together.
I might also give a workshop about running a mastermind. For the past 4-5 months I have, with a few other FIRE guys, a weekly mastermind.
So we might give a workshop there, explaining how to do that for the benefit of the community.
NOW OVER TO YOU
Do you track your personal net worth? What insights did you get this month? Add it in the comments.