Here is my monthly report of our personal net worth progress for November 2019 and other financial and life updates. 
I'm sharing this to show how important it is to track your net worth and seeing the progress. Tracking is what I also expect and advise my clients to do.
From tracking your personal net worth and see how much you are worth, you can learn what works and what you should change in your finances.
It's the first step to eliminate money as a source of stress and gain confidence in your future finances.
If you'd also like to see how much you are worth the way I do, I created this tool, especially for my readers. You can get it here.
Also, if you'd like to read the previous report to get the flow of things, you can check it here – October 2019 personal net worth update. Here are all the previous reports.
If you don't know what the net worth definition is, check it here.
I invite you for a free financial fitness call with me. Just click the link and book a time on my calendar. 
Let's jump in!
OVERVIEW
This month our personal net worth went down by -1.21%, and our savings rate was -201.06% (this is not a typo). 
Our 2019 average savings rate is down to 22.19%
So, last month I reported on our best month ever. Which was great for the ego. HOWEVER, the reason for this was purely technical. My wife got her month's salary earlier. It came 1-2 days before the end of the month. So, it did make my calculations on that month look great (as she had 2 salaries and a bonus at the same month), but it also made my calculations this month look really bad (~ -201% savings rate?!)
If I did calculate her salary on the next month then the numbers would have looked much much different. The savings rate would have been for this month ~43% (vs. ~-201.06%) and the average saving rate for 2019 would have been ~43% (vs. 22.19%). On October I then would have ~65% savings rate (Vs. 73.3%)
Why are the changes that large you ask?
Well, that's because I used average values for calculations. The average is great when you have a set of numbers that are roughly evened around a certain value, without any extreme values (like -201.03%). What's you'd do in such cases is using another calculation called Median.
I'm not going to get into the math explanation showing the differences between average and median. But if this is of interest to you I can write a post to explain this with simple examples. If you are interested, please let me know in the comments below.
But I learned for next time to be more careful with such calculations and use them in a proper way. After all, I want them to represent the REALTY as much as possible. 
CROWD INVESTING
Crowd Investing Alert: My page is getting traction and I'm glad to see that. I managed to build a system together with my virtual assistant to publish new projects on 4 crowd investing platforms. I see more people using it every day which is great. 
So, if you are into crowdinvesting, give a 'like' to the page. Also, give me feedback on what else you'd like to see there.
Have a look here:
I want to mention another exciting initiative by a fellow blogger called TORCH by Ido Shkedi. This project aims to analyze the transparency of different p2p and crowd-investing platforms to show how safe they are (or not). So, if there are things that look fishy, let the platforms know what they need to change and raise the standards in the industry.  Check out the link and support Ido and his project.
One of his recent posts was about Envestio, which didn't score that high. Generally speaking, I see a lot of discussions recently in the investor's community, speaking about the transparency of the platforms. There is much more constructive criticism, which is a good thing. Crowdinvesting is a young industry and these kinds of discussions raise the bar in the industry. I'm all for it.
Envestio: Another boring month with Envestio of not too much to say.
But here is something interesting I found out on Envestio. When an investor is using the buyback option of Envestio then this investment amount is going back into the market. Envestio does not announce those investment opportunities in any way.  I found that out by accident when I logged into my account and saw a non-annonced project (As I have alerts on the projects page for Crowd Investing Alert.) However, I didn't see any alerts coming up. So how come there were new projects?
All Envestio's projects were paid on time.
If you do decide to join Envestio through my link, I'll get some bonus from them to invest more in my portfolio, and you'll get an extra 5 € bonus + 0.5% cashback for the next 270 days after you invest.
Crowdestor: Crowdestor has its new platform design live now. It's much better than the previous one. Crowdestor, are releasing new projects in the fastest pace than all the rest of the platforms. Quite impressive. 
With their new design, you can now filter and see only the coming-soon projects or live/ones.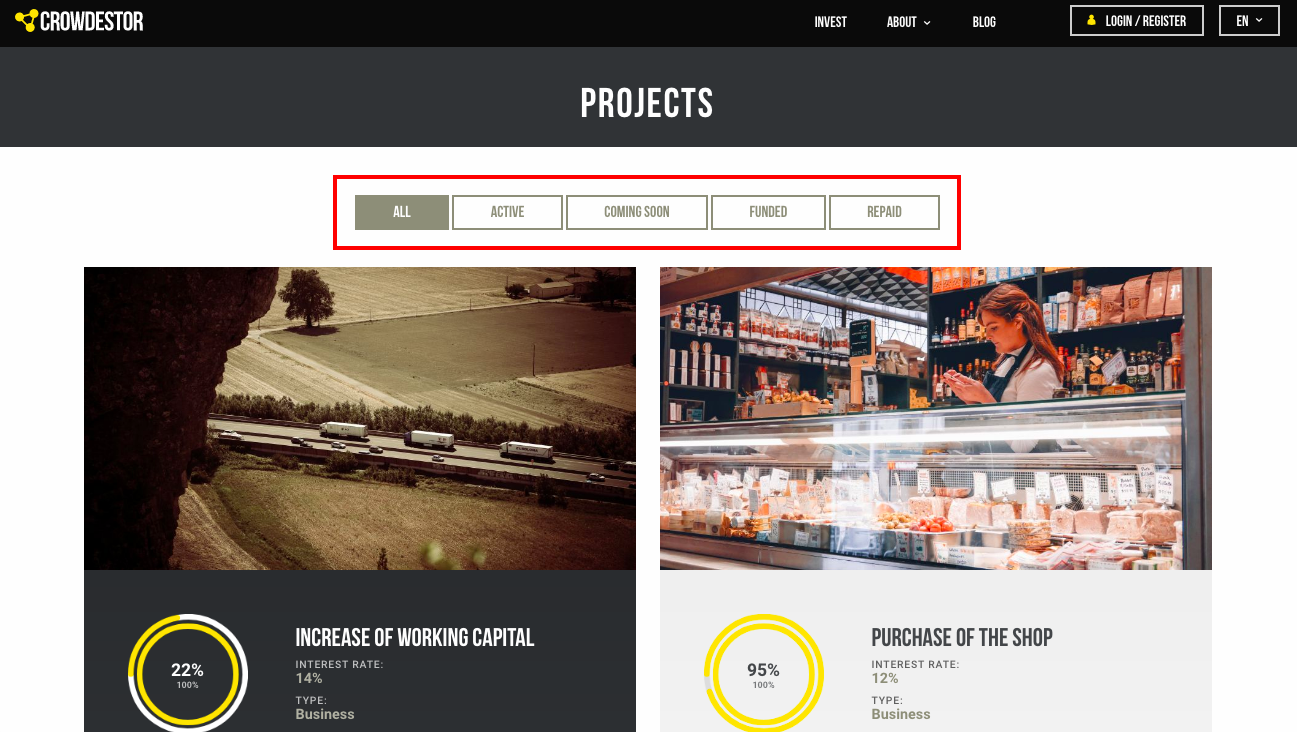 All their projects are paid on time as usual.
If you decide to join Crowdestor through my link you'd like to get 1% cashback for your next 90 days. I'll get a bonus from Crowdestor of 1% of your investment about, at no cost to you. sign up through this link
Kuetzal: There is now a big debate about Keutzal platform in the crowd investing community. This is because they re-wrote their terms and conditions saying something like: "We don't due diligence to the projects on our platform". In addition, they replaced their CEO a few weeks ago. Investors were not happy with what's going on, to say the least. 
I myself wrote the new CEO after his introduction email asking about the new terms and conditions.
So, a few days ago they sent this email to all their investors:
Then in parallel to all this, one of their projects SIA Alborg Petrol done some fishy business, this again caused a riot among investors and Kuetzal sent this email:
I'm glad to see that Kuetzal is taking its role seriously and care about their investors. It also shows a good example to other platforms of how they should work.
BTW, all Kuetzals' projects are paid on time so far.
Update: December 20th, 2019
After following posts of other investors in Kuetzal and reading Jorgen Wolf's post about Kuetzal, I decided to withdraw my funds from there. I started the process of doing that by sending their requested documents. 
I trust his judgment as he is putting lots of effort to visit the projects and meeting the founders of the crowd investing platforms. Kuetzal failed to convince that they are fully legit in this case. 
The penalty for exiting an investment is 10%, so overall I'll be losing a bit on this investment, as I already got some of the interest payments back.  
For now, I also remove the affiliate links from this post. 
As Jorgen put it: 
Kuetzal might keep paying everyone for a while, or maybe forever, I'm not sure.
Something smells very fishy and I only want to do business or invest with honest transparent people who keep their promises. In my book, Kuetzal failed this task and I have zero trust in them anymore.
21.1.20 Update: I no longer recommend Kuetzal. I invested through them. However, large parts of that business were a scam and under investigation. I'm not sure I'll see my money back in this case.
If you do decide to join Keutzal through my link, I'll get some bonus from them to invest more in my portfolio, and you'll get an extra 0.5% cashback for the next 180 days after you invest
In addition, use the coupon code FREEFINANCIALSELF when you join. You'll get 15 EUR bonus instantly into your account that you can invest right away.
Wisefund: Wisefund looked like a promising platform at first. I invested in a few projects and was happy with it. Therefore transferred even more money into my account about a month ago. But then…they stopped releasing new projects, saying they are working on improving their platform. 
Now, this was disappointing as now I have over a month of cash drag on their platform. So, I'm really keen to know when they will actually release new projects.
Wisefund is a young platform, so they have lots of things to improve and be on par with the more mature one (but even the rest of the platforms are quite young).
Wisefund doesn't have any live projects running now and I'm eagerly waiting for them to publish new ones.
All my investments with them were so far paid on time.
If you do decide to join Wisefund through my link, I'll get some bonus from them to invest more in my portfolio, and you'll get an extra 0.5% cashback for the next 270 days after you invest.
LOANS & OTHER INVESTMENTS
UK property: I'm actually writing this post in the middle of my trip to the UK. a couple of days ago I check a few properties which we need to decide what deal are we going with. I will report next month, on this more in detail. 
US property: As I mentioned the last few houses in the portfolio suppose to be sold by the end of the year. I hope to get some good news at the beginning of 2020. 
Loans:  No news in this front this month. 
Nexo: After checking Nexo and Celsius which is another platform paying higher interest fully liquidated, I decided not to go with those yet. Not because I don't want to keep my money there, but because their products were not mature yet for my needs. 
Here is why:
With Nexo, I can invest in USD or GBP minimum 50K and get 8% daily in the invested currency. 50K GBP or USD is way too much. With EUR the minimum is 1000 EUR. They will introduce USD and GBP in their platform sometime. I'll keep following.
BTW, there is no option to earn interest on Crypto coins with them. At least yet.
Celsius – You can also get interest on stable coins as of what their website mentions. Stable coins are basically cryptocurrencies that have the same value as FIAT (regular) currency. I asked about FIAT currencies interest payments also but so far still waiting for their support reply.
You can get interest on BTC, but to be frank, their withdrew model is quite hard to understand. You withdraw from the capital and not from the interest you make (Which is not compounded). So, I dropped this for now.
Regardless, since I'm moving on with my UK investment, there is less rush putting my GBP into an asset to keep the money work. It's only until I find the new property to buy, which I hope won't bee too long. 
One bad thing that happened while waiting so long, is the fact that GBP has gone up against the ILS since its bottom a few months ago. This essentially means that my investment became around 10% more expensive just because of that.
OUR PERSONAL NET WORTH ANALYSIS
US & Israeli Stock portfolio: Our Portfolio for this month stayed around the same as last month. No significant change. 
US Real estate investment: As I mentioned above, I hope that by the end of January, this investment will be sold. 
Bitcoin: BTC dropped back. So, we are on a lose a bit on our investment in this. 
BREAKDOWN OF INVESTMENT
On my October post, I got a request from Invest For Financial Freedom. She (I think, judging from her website header) asked me about countries and industries I'm investing in.
So, after a few hours of work, I managed to create the industries breakdown. I also added the cash part of my portfolio as well as the crowd investing part of my investments.
Have a look and would love to know what you think about this new change.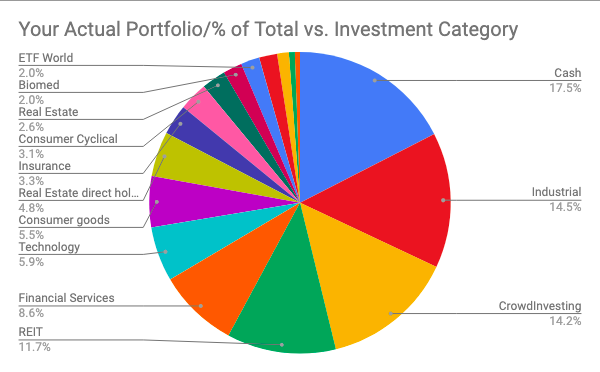 If you are interested I made these calculations and this pie diagram after tweaking this tool from Measure of a plan
PERSONAL LIFESTYLE AND PROFESSIONAL LIFE UPDATE
TRAVEL:
I have a few trips planned for the next 1-3 months.
The United Kingdom – 11th-17th of December

Beijing- 29th-2nd of January

Europe Ski Trip – 2nd week of January.

New York  – 12-19th of February

Vienna – 24-26th of February
Planned but no date set:
If you are around, get in touch and let me know. I always like to meet my readers.
ETSY STORE
No changes in my store this month. I now have products for adults and not only for kids.
In a nutshell, let's say you'd like to save for a vacation somewhere. I created a vacation savings tracker for people to visually see how much they saved for that vacation and keep them motivated towards that goal of making it happen.
I have this product for ten countries so far (Italy, France, The Bahamas, Spain, Germany, Japan, Jamaica, The Dominican Republic, the United Kingdom, and India).
For kids, I created countdown activity for the family vacation (31 countries so far). The kids can color the flag of that target country counting down the days before the trip.
I have a request pls. I'm looking for feedback on these products. Please go to the store and check them out. If you decided not to buy, please leave a message in the comments or send me a message on why you decided not to buy it eventually. That will be very helpful.
And here is a tip. When people give you a compliment and good feedback it's wonderful for your ego but is zero help making progress. Bad feedback, is where you can learn and make improvements. So, I'm looking to improve.
Here are two examples: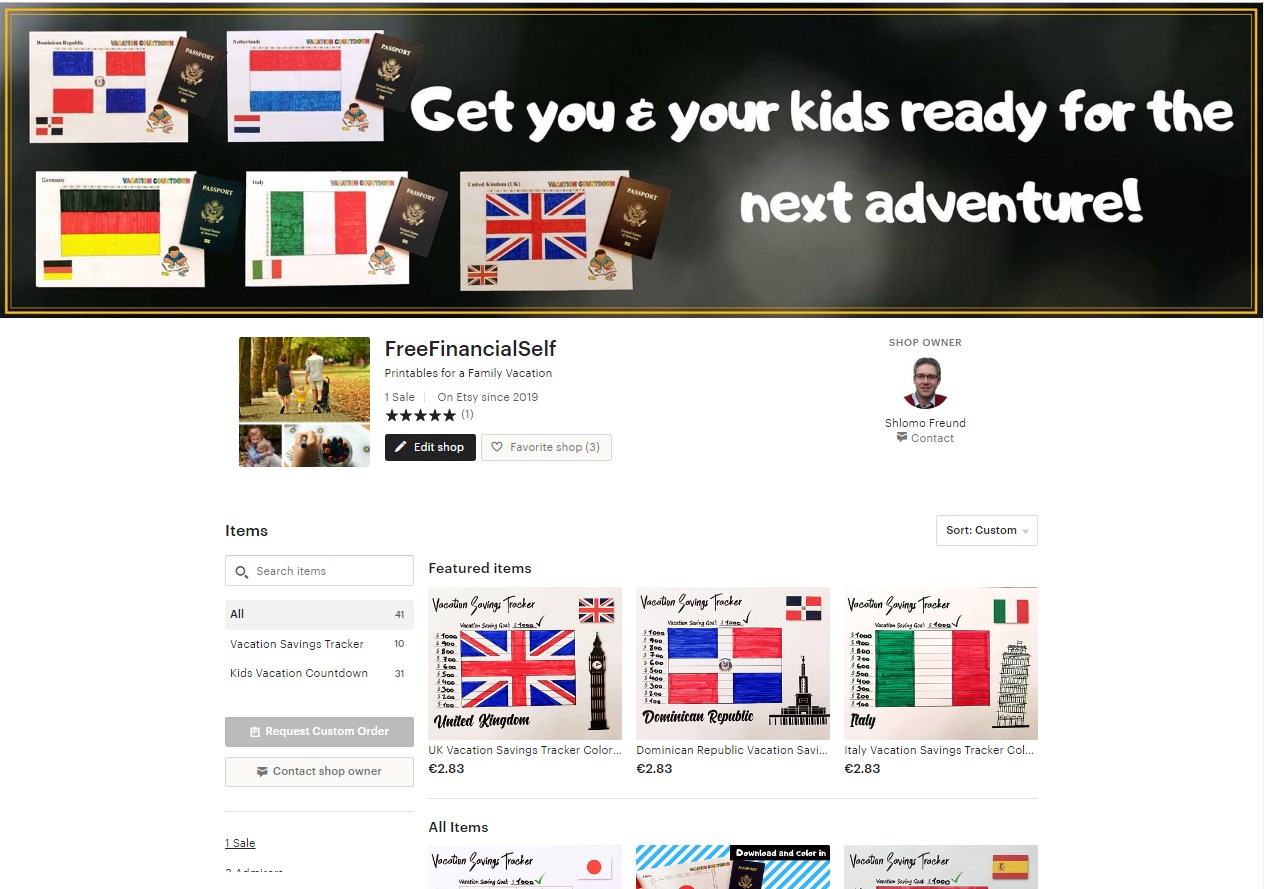 READING UPDATE AND READING CHALLENGE
I finished a book  Man's Search for Meaning by Viktor E. Frankl. A serious and thought-provoking book. This is a classic. I wanted to read it for a long time and finally had the chance. The first part is the survival story of Viktor Frenkel. In the 2nd part he talks about his treatment method called Logotherapy, helping people understanding the reason for their pain in life. It got me thinking a lot about myself and family. I recommend. 
I'm also reading a book called The Opposite of Spoiled: Raising Kids Who Are Grounded, Generous, and Smart About Money by Ron Lieber. I mentioned that thanks to this book we started giving allowance to our (almost) 4-year-old daughter.
Then about 2 weeks ago I went with her to a 2nd hand market to spend what she had on her 'Spend' jar (She has two more jars labeled: 'Save' and 'Give').
It was really interesting to watch her in her first experience buying something and need to choose what she really wants with the amount she had. It was a learning experience. Eventually, she got 6 items for about 1 USD. Pretty impressive. 
I finished reading the Hebrew version of Putin's Oil: The Yukos Affair and the Struggle for Russia by Martin Sixsmith . It was interesting but mostly scary to think about how our world is run. 
The last book I'm reading is The Danube: A Journey Upriver from the Black Sea to the Black Forest by Nick Thorpe. I will report when finishing it. 
I invite you to follow my Goodreads profile and hope to follow yours.
2019 Reading Challenge

Shlomo
has
read 16 books toward
their goal of
18 books.
EXERCISE
Same as last month. A bit better on this front. Not yet consistent. But I decided that my goal is to be able to be flexible enough to touch my toes without bending my knees. So, I have a set of 4 exercises I need to do several times a day. For now, I do it just 1-2 times. I also go to a Yoga class once a week, so this helps too.
MASTERMIND JOINT LEARNING
We are in the middle of another cycle of meetings and even planning a face to face meeting in February.
As for our joint learning. We read other blogger's withdraw plans after they retire. To be frank, it was quite boring, as it's very US-oriented. So, a lot of it was not relevant to me. However, I've been asked to try and find Europeans writing about their withdraw plans. I'm yet to find it. So, if you do have a post about the topic. Please give me a shout out.
FINANCIAL INDEPENDENCE EUROPE GROUP
In August, I joined as an official moderator of the Financial Independence Europe Podcast Facebook group. I invite you to participate as my readers to the group and have fruitful discussions.
JUST LIFE
NOW OVER TO YOU
So, how is this update helping you?
Did you discover anything new?
Are you tracking your finances and see the progress?
Is this update too long? Boring?
Feel free to add a comment, I read them all and promise to reply.