From the short experience we have here so far I can answer questions I had before coming here and more specifically for entrepreneurs who are moving here with their families (i.e baby). We managed to settle here nicely and have a good daily routine which I guess is what you want to achieve balancing family and work.
1.WHERE TO WORK FROM IN CHIANG MAI?
After exploring Chiang my a lot by foot and looking for a place to work and a place to live, here is what we found.
There are currently 3 main co-working spaces in Chiang Mai, CAMP and Punspace. In addition, there are also smaller co-working spaces which are actually rooms in coffee shops which are designated for this purpose and call themselves co-working space. They are not as nice as the large ones in my opinion but it's subjective of course.
Many entrepreneurs I spoke with said they just go to a regular coffee shop and work from there and you do see people with laptops when walking down the street. So that's a good option too. It depends what you like.
A few days after writing this post initial draft I bumped into another co-working space which I haven't heard about before called StarWork. It's further away than the other co-working spaces though. It's located to the east of the old city.
2. WHICH CO-WORKING SPACE SHOULD I CHOOSE?
Punspace co-working space
Let's talk a bit about the co-working spaces as many people try them at some point even if eventually they choose not to work from one regularly.
Punspace has 2 locations. There is one in Nimman and the other one in the old city pretty close to TahPea gate at the east side of the old city.
Punspace has a few membership plans where the monthly membership is 3499 bhat per month (about $100). They also have a weekly membership pass for 1499 Bhat, a day pass  (229 Bhat/day) and memberships for longer stayers of 3,6 and 12 months.
The nice thing is that if you sign up with Punspace for a membership you can work at either of their locations.
The Punspace at Nimman is the older and smaller of the two. It's located in a nice glass walled building looking at a garden outside. It feels very calm and peaceful.
Punspace near Tha Pae Gate is the more energetic one. It's much larger and is located in a building of two floors. The first floor has a coffee shop, offices, meeting rooms and Skype rooms while the top floor is the open space with hot desks. This is also where their events are happening.
Camp co-working space
Another co-working space is CAMP. This one is located inside MAYA mall in Nimman area. It's about 15 minutes walk from Punspace in Nimman. The nice thing about CAMP is that it's free to use.
But hold on, there are a few conditions to get the free access…
You can use the space if you buy over 50 Bhat worth of food at the coffee shop inside the space. It's not too hard ro get to that sum as their coffee costs 69 Bhat. That will give you 4 hours of free internet.
There is another way to get free access to CAMP and this is if you have AIS mobile plan which has AIS super WIFI included.
AIS is a mobile provider who has partnerships around the city and gives you free WIFI in some locations. They are actually scattered around town and it's a nice surprise to discover you don't have to use your data plan even when being outside.
To get access to the AIS super Wifi, you just walk in (if it's in CAMP), put in your username and password you got on a text message when joining the plan and voila , you're online!
However, you only get a single connection when joining, so you'd have to choose to be connected on your computer or your phone. If you arrive to Chiang Mai with family just as we do, we have two users so when my wife and I are not working at the same time we connect with each of the user names on a different device.
Camp get VERY busy after noon time. So you'd want to get there early and get a table. Sitting here now at 9:39AM, there are about 20 people sitting around and an hour ago there were only a handful of them. When I came here at the afternoon time a few days ago, it was hard finding a place to sit.
BTW, both Punspace and CAMP are open 24/7 which makes it very convenient, especially if you are a night owl.
Here is a map where all 4 co-working spaces are located.
3. WHERE TO LIVE?
So, where most entrepreneurs are hanging out would be in the old city and even more in Nimman area which is the business area of town.
Note that NImman is more expensive than other areas. So, it really depends on what's your budget for renting a place nearby. As both Punspace and CAMP are in Nimman as well as many of the entrepreneurs meetups, it's most convenient to live in that area.
We had a budget of 10000 Bhat/month (about $281 USD/month) to spend on a 1 bedroom apartment which got us an old apartment in Nimman area and even then it was really hard to find.
We then decided we would want a walkable place from Nimman, which we have found within our budget. Our condo even has a small gym and a swimming pool.
Take into account that when living in Nimman it's not only the rent that you pay is higher but everything around would be more expensive.
Our place is in a local neighborhood behind Suan Dog temple (Wat Suan Dok, if you want to google this). It has lots of local restaurants and shops, so we don't really need to cook anything. We love the area and like that it's all local. Everything is very authentic and welcoming.
It's also within a walking distance to Nimman area or a short red taxi ride (20 Bhat / 0.56 USD) max.
Must say Nimman area can be pricey if you are on a low budget. We've met others who just chose to live further away and got a scooter to move around town which makes it fast and easy. Renting a scooter would cost around $100/month.
4. HOW TO LOOK FOR AN APARTMENT IN CHIANG MAI?
This is what everybody we spoke with are doing in Chiang Mai: "Walk down the street at the area you'd want to live in. Walk into different condos and ask at the office if they have an apartment"
We did this for 1-2 days and then decided to use an agency as well.
We spoke with two agencies:
Perfect Homes – Perfect homes have a good website with a map and details of the properties. We called them, but they had nothing within our budget.
Chiang Mai properties – These guys were the ones we found the apartment through. They were very helpful and nice. They also have a website with a list of properties but it's not as friendly as Perfect Homes
Regarding the agency fees, just don't worry about them. The owner of the place or the condo management(if these are service apartments) are paying them.
And last tip, always negotiate! We managed to get the price down from 14000 to 10000 Bhat/month. Not Bad!
WHICH MOBILE COMPANY I SHOULD SIGN UP WITHIN CHIANG MAI?
By far the best one in Chiang Mai is AIS. They have good reception and free WIFI around town, as well is in CAMP co-working space which I mentioned.
What you need to do to sign up with them is go to MAYA mall to the 3rd floor, where their store is located. Choose your plan according to how much data you plan to use and that's it. You are all set.
CAMP Coworking space BTW is in the same mall on the 5th floor. Just step in!
6. HOW TO FIND A NURSERY, KINDERGARTEN, NANNY OR A BABYSITTER FOR YOUR KIDS OR BABIES?
Must say this was the hardest part so far. We've spent 3-4 days of leg work to find something suitable.
Let's start with saying that the info online is very limited. I had no idea where to start looking except of googling.
I'll go through the different options and what we've found eventually.
Intentional schools and nurseries
This option is the one we didn't want. These schools are usually much more expensive and also have yearly programs or a semester program. We however, needed something on a monthly basis for 2 months. International schools usually have the best online info as well, so it's pretty straight forward how to go about with this.
Finding a nanny
Going with a nanny part time was our preferred option and frankly we thought it will be easy to find. But it wasn't. The concept of a babysitter in Thai families is not a common thing. searching online brought up nothing.
BTW, as we found out full-time nanny would cost 8000-15000/Bhat/ each month. There are also options for live in nannies.
After asking around, there are a few main online sources we found:
Bliss Mae Baan Network – This one is actually a training center for women who work as house helpers on general. We tried to get in touch but had no luck searching through there. I'm still posting it here as it was recommended by a local living here for the past 7 years.
Chiangmai Nanny เชียงใหม่แนนนี่ – This one is a Thai Facebook page for nannies. We did get some response there so worth trying. Get your Google translate skills ready as everything is in Thai on this page.
Chiang Mai education Facebook group – While asking around (Yes, that was a random foreigner at the supermarket shopping for diapers) I was added to a relevant Facebook group called Chiang Mai education. There are ads there for people who look for nannies in town. This group didn't come up on my searches, so you'd need to know about it in order to find it.
Finding a nursery
There are two main kinds of nurseries/daycares. Some have bilingual programs and catered towards the international crowd while there are local nurseries where it's Thai only. This means that the staff will probably not speak English or very limited English.
When you search online you find some kindergartens that have monthly programs. Compared to the local options they are more expensive and you need to pay a hefty registration fee in addition to the monthly fees (That will sometimes cost as much as an extra month)
You can check out:
Local Nurseries has no online presence whatsoever. So finding out about those required literally walking on the street from one nursery to another (where each is pointing you to the next one). Many of them had no available space or didn't take 1-year-old pre-walking stage. For many the official acceptance age is 18 months, but if your baby can walk they will consider this.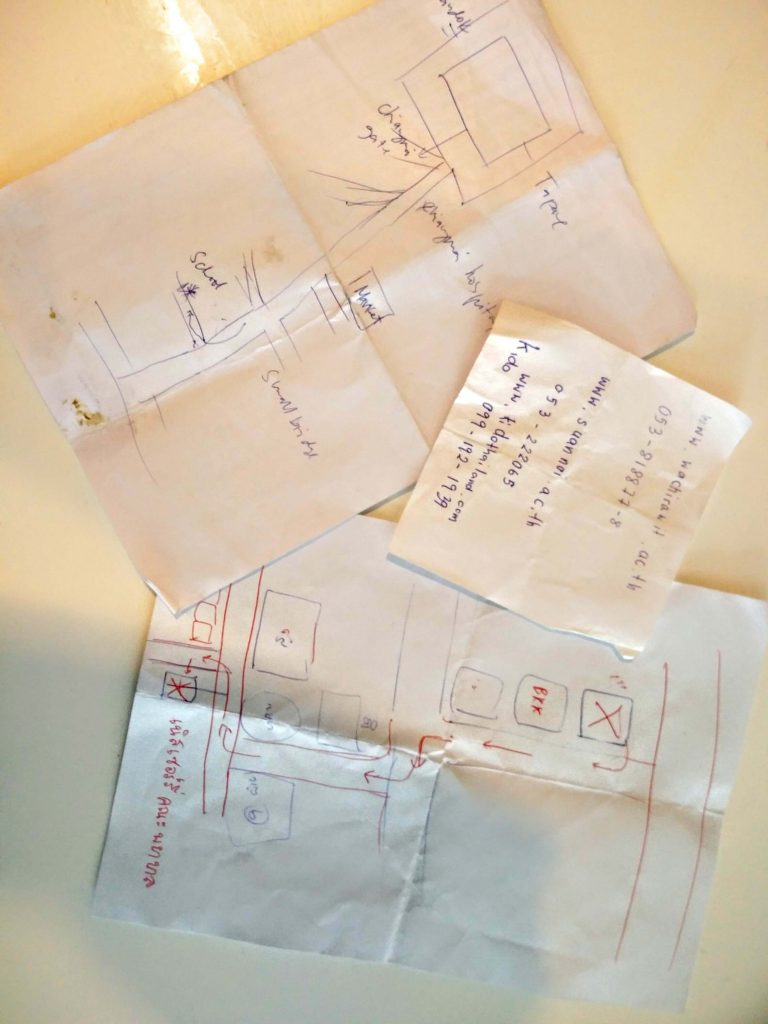 We found out Chiang Mai university has 3 nurseries which were an option, but all 3 didn't have a vacancy at the time. If you'd want to go with one of those you'd need to contact by phone and find somebody who speaks Thai as all of them knew only very basic English.
Nursing Faculty & Medicine Faculty – These two nurseries are literally 50 meters away from each other. The Nursing school has a person who speaks English which is the education counselor of the nursery. The tuition is 3500 Bhat/month for the nursing school nursery is 3500 Bhat / month.  They are both located in the university area across from Suan Dok area.
Education Faculty – The Faculty of Education has another Nursery It's opposite of Sethi school of the Faculty of administration., much further than the other two nurseries. Phone #: 053908666
As I mentioned none of those has a vacancy when we needed and therefore had to keep looking
Fortunately, one of the directors of the university schools told me that a former trainer opened a nursery, so we went to check it out and ended up putting our 1-year-old daughter.
This one is called kuan Hatay (I'm might be wrong on the spelling here, so bear with me).
This one is on 9 Arak lane 2 (9 Arak soi 2) in the old city. It's a nursery with two age groups. 0-2 years and 2+ years. The smaller group has a room with toys and 2-3 nannies. The director of the nursery has 20 years of experience and speaks some English. They charge 3500 Bhat/month with no registration fees. Our daughter is there for the past 2+ weeks and happy to go there.
Get in touch with the director Taowan – (+66) 053276742 . She speaks some English but if you have somebody who speaks Thai, it would be better.
NOW OVER TO YOU
What's your experience when settling in a new place? How hard was it? Give some tips if you have and share in the comments.
First and cover image by David McKelvey
This post was first published on Startup Noodle