This is my monthly report of our personal net worth progress for August 2019 and other financial and life updates. 
I'm sharing this to show how important it is to track your net worth and seeing the progress. This is what I also expect and advise my clients.
From tracking your personal net worth and see how much you are worth, you can learn what works and what you should change in your finances.
It's the first step to eliminate money as a source of stress and gain confidence in your future finances.
If you'd like to also see how much you are worth the way I do, I created this tool, especially for my readers. You can get it here.
Also, if you'd like to read the previous report to get the flow of things you can check it here – July 2019 personal net worth report. This is the page with all previous reports is here. 
If you don't know what the net worth definition is, check it here.
I invite you for a free financial fitness call with me. Just click the link and book a time on my calendar. 
Let's jump in!
OVERVIEW
This month our personal net worth went up by 5.18% and our savings rate was 66.87%. So, it's been a good month!
To be completely frank, I thought, we will end up with a new savings rate record high this month, but we had larger expenses because of our workation to the south of Italy.
We had some family reasons for postponing this trip and when I composed the previous report I wasn't sure yet, how things will turn out. So, here we are, now writing this post from Catania, Italy. More on our trip in the Travel part of this monthly update. 
Our 2019 average of savings rate is up also to 43.66% (Was 40.36 % in July) 
CROWD INVESTING
Envestio: Last month Envestio introduced auto-invest option on their platform. It's good as now I don't need to chase their messages and then immediately log in just to make it into a project.
However, only 2 projects were released this month. That made me think of taking some money out of my Envestio account and moving it to Kuetzal or Crowdestor. I had a large sum of one of the loans returned a few days ago and I was afraid of endless cash drag. But then today they introduced another project, so that was auto invested. 
It was a 17.5% ROI for a 12 months loan.
I also decided to add more funds to my Kuetzal and Crowdestor accounts. The reason I didn't add any to my Envestio account was the lack of ongoing release of projects. They don't release then as much as the other platforms. It's somewhat disappointing as Envestio used to be my favorite platform among the three.
If you do decide to join Envestio through my link, I'll get some bonus from them to invest more in my portfolio and you'll get an extra 5 € bonus + 0.5% cash back for the next 270 days after you invest
Crowdestor: For now Crowdestor generates the least returns for me. This is because most of the projects that were introduced by them have a 6-month waiting time until the first payment is due. Still, all payments are on time. 
What I also like about Crowdestor is that they introduce more projects that are not eastern Europe centered. They have a few worldwide projects, which helps for diversification.


You can check more of Crowdestor's projects on their website.
Kuetzal: Kuetzal became very fast the platform that gives the largest returns for us. This is due to the fact that they constantly introduced projects with good returns. So, out of the 3 platforms, we put the most funds there so far.
All projects are paid on time and I'm happy with it.
A few days before the end of August I decided I'd like to add some more funds and hopefully get some of the cashback from the promotion they had until the end of August. Unfortunately, I couldn't due to some restrictions I had with my Revolut account, which I'm yet to solve.
But today, as I mentioned earlier, I added more funds in there. It's a few days late, so no cashback bonus.
21.1.20 Update: I no longer recommend Kuetzal. I invested through them. However, large parts of that business were a scam and under investigation. I'm not sure I'll see my money back in this case.
If you do decide to join Keutzal through my link, I'll get some bonus from them to invest more in my portfolio and you'll get an extra 0.5% cashback for the next 180 days after you invest
In addition, use the coupon code FREEFINANCIALSELF when you join. You'll get 15 EUR bonus instantly into your account that you can invest right away.
OTHER INVESTMENTS
UK property: I updated that we moved on to another project in the UK which is a student apartment building. Guess what happened? We lost on the bid. 
We are now looking at two more potential properties. I'll update when I have some news. I didn't really think it would take that long to find and invest in a property there. 
OUR PERSONAL NET WORTH ANALYSIS
Loans: Partly good news here. On the personal net worth previous update, I mentioned that we are waiting for approval of refinancing some of our loans at a rate which is about half of what we pay now. So, yes we got it but only for about a third of the amount we requested. I guess the reason is that they need to see how we are doing with the paybacks and then will be able to increase this over time. It's just like with the bank, you need to build the relationship. 
It's a progress,  so I'm glad!
US & Israeli Stock portfolio: The portfolio dropped a bit this month. Especially for US stocks. Nothing too bad though when you are talking long term. 
US Real estate investment: No news here yet. 
Bitcoin: Bitcoin is fluctuating but still around the same price of 10000 USD per bitcoin. Not a huge change for us.
PERSONAL LIFESTYLE AND PROFESSIONAL LIFE UPDATE
FINANCIAL CLARITY TOOLBOX PRODUCT LAUNCH
I'm very excited about mentioning this here. After a few months of work, I'm glad to launch an online group coaching workshop called: Financial Clarity Toolbox.  The launch will be next week. 
I took everything I've learned working with my 1-on-1 clients and put it in an online group format. The thing is that in a group, you get to learn more from others and contribute to the group. So essentially creating a support mini-community for yourself. There are characteristics you don't get in individual work. 
How do you join?
Well, this is a soft launch, therefore this program is not open for everyone at this stage. It will be open for now only for people who are on my mailing list. 
You can still join my mailing list now using the form down below. Then, next week you'll get a special message about this online workshop.
If you are already on my list. You don't need to do anything for now.
See you soon?
TRAVEL
We are now in the middle of a 5-week workation in the south of Italy. It started in Naples and went a bit south. Yesterday we took a train all the way down to Sicily. 
Here is some of what's been going on:
ETSY STORE
I have new products in my store now. I now also have products for adults and not only for kids. 
In a nutshell, let's say you'd like to save for a vacation somewhere. I created a vacation savings tracker for people to visually see how much they saved for that vacation and keep them motivated towards that goal of making it happen.
I have this product for 10 countries so far (Italy, France, The Bahamas, Spain, Germany, Japan, Jamaica, The Dominican Republic, United Kingdom, and India).
For kids, I created countdown activity for the family vacation (31 countries so far). The kids can color the flag of that target country counting down the days before the trip.
Here are two examples:
If you plan on a trip and need a push to stay motivated towards your next vacation, check out my store.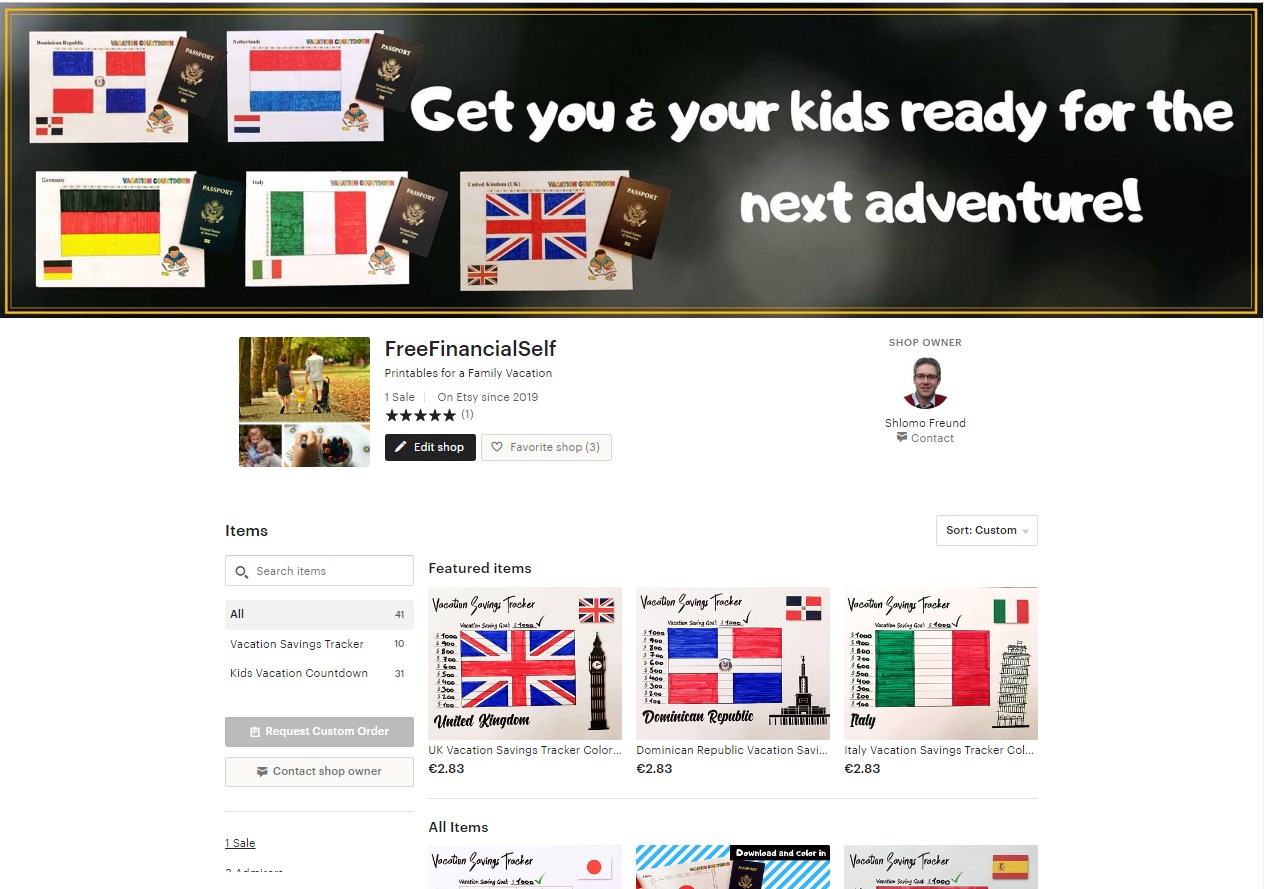 READING UPDATE AND READING CHALLENGE
My reading pace has been really slowing down. Especially now that we are traveling I have less time for this. The reason is that it's much easier to set a time for reading (the rant about not exercising is coming up for the same reason), when you are in a routine.
Now, we don't have a scheduled routine on some of the days and exploring new places. This takes time. No complaining here, but I can't have it all I guess.
I'm currently reading The Growth Hacking Book: Most Guarded Growth Marketing Secrets The Silicon Valley Giants Don't Want You To Know by Parul Agrawal . Nothing to say on it yet, as I haven't finished. A remark on the structure. The book is consisted of separate articles, giving you the different aspects of growth hacking, so each one of these is a stand-alone and not a continuation of the previous article/chapter.
I also started to read a book called Inside the Third Reich by Speer, Albert. I'm reading the Hebrew version and so far it's fascinating. The only problem is that it's a 500+ pages book, so I decided not to carry it around now when traveling. I'll keep reading it once we are back home. 
I invite you to follow my Goodreads profile and read along with me. I'd love to share ideas.
2019 Reading Challenge

Shlomo
has
read 14 books toward
their goal of
18 books.
LEARNING ITALIAN
Here is a paradox. My scheduled Italian learning almost stopped since we arrived in Italy. I manage to communicate in broken Italian and Spanish. But I don't feel I'm making a lot of progress. Perhaps because my conversations in Italian here are very basic. Time to make more local friends! 
EXERCISE
My exercise habits did not hold since last month. So, I need to re-build it. I'm going to cut on the different exercises I was doing and stay with no more than a couple.
However, I did realize where my problem is. I used to do most of the exercising right after waking up. I did a single set of push-ups and stretching. The thing is that for stretching you need to do that a couple of times a day, and for the habit to generate, it should be at the same time and after/before a certain action that you do anyway.
It's harder when you don't have a set timing to do things and then setting the exercising around this. So, I need to figure out how to get over it. Let's see. 
MASTERMIND JOINT LEARNING
On my weekly mastermind, we started out an interesting project, which is joint learning. We decided that we all want to learn something together and then have everyone asking questions and help each other understand deeper the learned topic.
This is our first try doing this. We chose to learn together the first 15 (out of 31) parts of The Ultimate Guide to Safe Withdrawal Rates from Early Retirement Now blog. It's very interesting and I encourage you to read this too (That's another reason my book reading pace decreased. The first 15 posts are roughly 137 pages long). If you heard of the whole discussion of the 4% rule in the FIRE community, then this analysis will open your eyes with some new data.
Here is a quick summary of what I've learned so far:
The 4% rule does not work. To be safe with close to 100% success you'd need to go with a 3% rule.

Trying to use different strategies to go higher than the 3% rule, is complicated to manage and the addition on the 3% rule does not worth the effort.

There is a higher risk more than using a too high withdrawal rate. That's a low sequence return risk. Therefore this should be mitigated.
Since I'm borrowing money now at a low-interest rate, it's the best way (at least according to what I've read so far) to mitigate the low sequence return risk. So, I'm on the right way!
FINANCIAL INDEPENDENCE EUROPE FACEBOOK GROUP
This month I joined as an official moderator of the Financial Independence Europe Podcast Facebook group. I invite you to join as my readers to the group and have fruitful discussions.
NOW OVER TO YOU
So, how is this update helping you?
Did you discover anything new?
Are you tracking your finances and see the progress?
Is this update too long? Boring?
Feel free to add a comment, I read them all and promise to reply.