Here is my monthly report of our personal net worth progress for September 2019 and other financial and life updates. 
I'm sharing this to show how important it is to track your net worth and seeing the progress. Tracking is what I also expect and advise my clients to do.
From tracking your personal net worth and see how much you are worth, you can learn what works and what you should change in your finances.
It's the first step to eliminate money as a source of stress and gain confidence in your future finances.
If you'd also like to see how much you are worth the way I do, I created this tool, especially for my readers. You can get it here.
Also, if you'd like to read the previous report to get the flow of things, you can check it here – August 2019 personal net worth update.  Here is the page with all previous reports is here. 
If you don't know what the net worth definition is, check it here.
I invite you for a free financial fitness call with me. Just click the link and book a time on my calendar. 
Let's jump in!
OVERVIEW
This month our personal net worth went up by 0.75%, and our savings rate was 20.59%.
I'm writing this post after coming back from a 5.5-week workation in the south of Italy (That includes Sicily). I wasn't sure we would end up on the positive side this month as there were more expenses this month.
When I made the calculations for this post last night, I also checked roughly how much net this trip had cost us. It came out to be about ~1000 USD, which is not bad for 37 days for 2.5 (3.5 years old included) persons in Europe.
When we were in Portugal, I made a detailed post of our expenses and how we managed to stay for 57 days for practically almost free. You can read it here.
Related: HOW TO PLAN AN AFFORDABLE 57 DAYS WORKATION IN PORTUGAL?
I have 3-5 short trips planned out for these coming months. I'll tell you more about it the travel section of this post.
Our 2019 average of savings rate is down to 41.09% (Was 43.66 % in July)
CROWD INVESTING
Envestio: I think that eventually, Envestio is somewhat keeping up with the pace of their investors. They introduced 5-6 projects or additional investment for previously introduced projects. This caused something that was not seen on their platform for a while. There were outstanding projects for a few days on the platform that you could choose from. I invested all the free money I had in my account.
About two months ago, they introduced an auto-invest option. But here is a caveat: It only works with 100+ EUR, which is a bit annoying as their minimum investment in a single project is only 1 EUR. So, if you'd like to go with smaller amounts, you still need to invest manually. It's possible when a few projects are running like in the last 1-2 weeks. But it's impossible if they won't keep releasing projects constantly.
If you do decide to join Envestio through my link, I'll get some bonus from them to invest more in my portfolio, and you'll get an extra 5 € bonus + 0.5% cash back for the next 270 days after you invest
Crowdestor:  For now, Crowdestor generates the least returns for me. It is because most of the projects that were introduced by them have a 6-month waiting time until the first payment is due. Still, all payments are on time. 
Last month, I told you about worldwide projects they were about to introduce. One of them called: Mafia Games supported a gaming company expanding to the US market and paid 18%+14%. The additional 14% are paid according to the company's performance.
I was also very interested so, I transferred more funds to my Crowdestor account just for this project.
Many people were interested in that project. How do I know that? Their website crashed just when the project countdown ended.
Here is what was going on in one of the p2p facebook groups I'm in.
Another interesting discussion was about a project that pays 21% annually. Some people are skeptical about these kinds of returns and worry it's a scam. Opinions vary, of course.
Then I had to think about what I should do. All crowd investing platforms have a good track record of paying on time. But I'm a bit worried that most of the projects are in eastern Europe, specifically Latvia. This project is also a Latvian one…
I thought of investing in any way, as 21% is quite lucrative, but then I bumped into a new platform that Jorgan Wolf checked and decided to give it a try.
It's a new platform called: WiseFund. It was a way for me, to invest in high yield projects (not 21%, though) and diversify into another platform. In addition, there is also another reason I like them very much. So, keep reading…
You can check more of Crowdestor's projects on their website.
Kuetzal: Kuetzal has now three projects running. Only one of them, the Shredder Machine, has a buyback guarantee and even has the highest returns of 20%.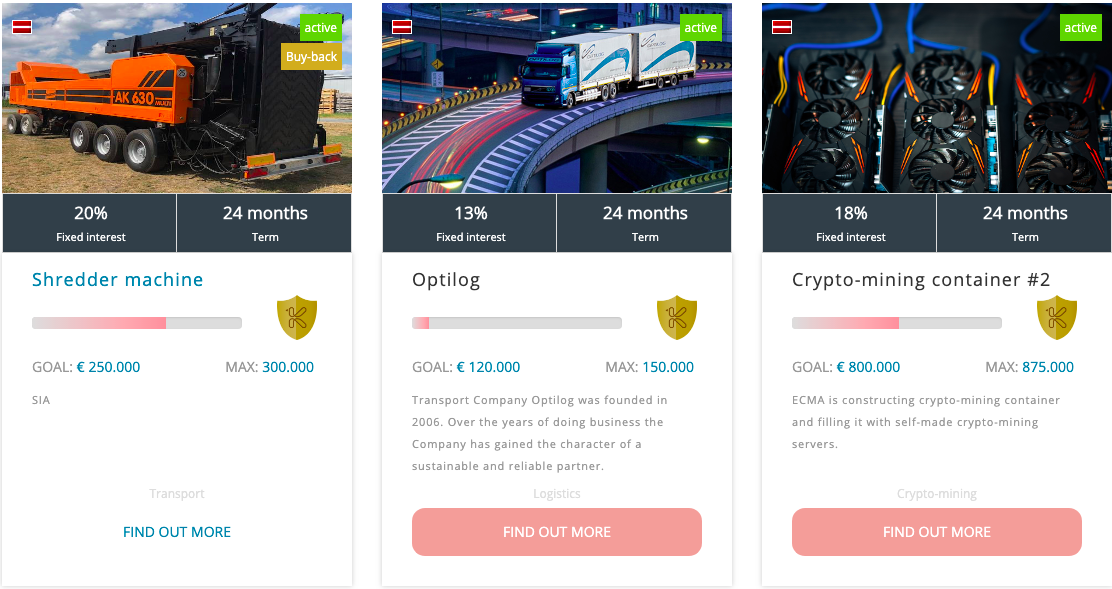 Kuetzal is currently the platform I have the most money in when Crowdestor is 2nd with slightly fewer funds.
21.1.20 Update: I no longer recommend Kuetzal. I invested through them. However large parts of that business were a scam and under investigation. I'm not sure I'll see my money back in this case. 
If you do decide to join Keutzal through my link, I'll get some bonus from them to invest more in my portfolio, and you'll get an extra 0.5% cashback for the next 180 days after you invest
Also, use the coupon code FREEFINANCIALSELF when you join. You'll get 15 EUR bonus instantly into your account that you can invest right away.
Wisefund: So, I just told you a few paragraphs above that I put some funds in Wisefund. It's a new platform that I heard about from my friend, Jorgen Wolf on Financialfree.eu.
Jorgen does thorough checks before investing in a platform and in some cases, takes the time to go and meet the teams in their office. See here (Crowdestor) and here (Fastinvest). We had long conversations also about the different platforms. With all that taken into account, I trust his opinion. But as you can see from his blog, his strategy is still to diversify between 20+ p2p and crowd-investing platforms.
So, except for good reviews on the platform, why I liked it so much? It has projects out of Baltic Europe. That's wonderful for diversifying investments! So far, I've seen projects in Germany and the Czech Republic.
Have a look at the recent projects presented: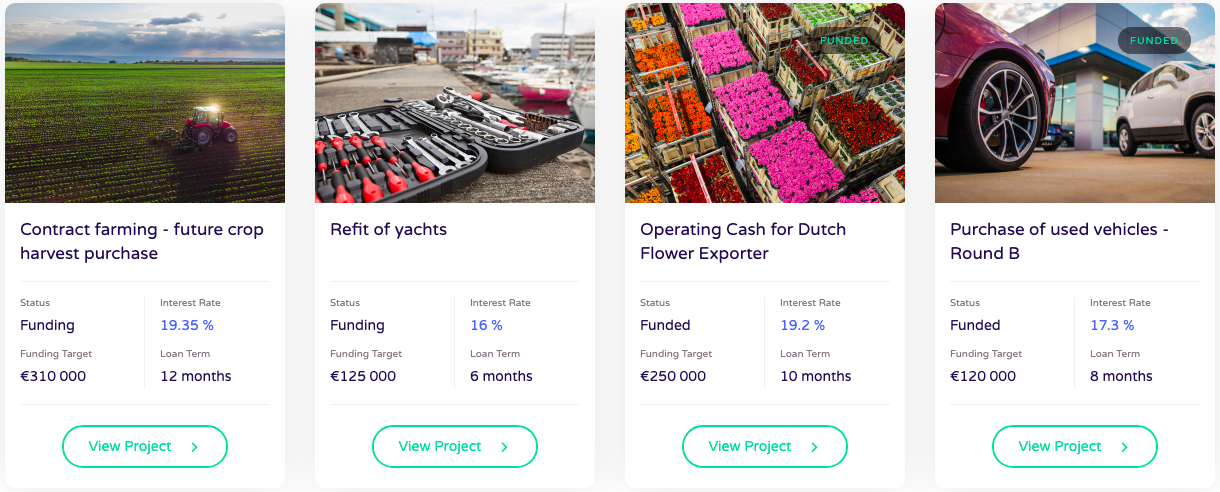 There isn't enough track record on the platform to see how it will do in the future, but so far I've seen only good things early investors are saying about it. So, I put in some funds to test the water.
I immediately got back 0.5% of my invested amount back into my account, which I reinvested, of course. That was a sweet treat. However, you only get it if you sign up through a referral link.
The minimum investment per project is 10 EUR. Better than Crowdestor (50 EUR) and Kuetzal (100 EUR) but worse than Envestio 1 EUR).
If you do decide to join Wisefund through my link, I'll get some bonus from them to invest more in my portfolio, and you'll get an extra 0.5% cashback for the next 270 days after you invest.
OTHER INVESTMENTS
UK property: I updated that we moved on to another project in the UK, which is a student apartment building. Guess what happened? We lost on the bid.
We are now looking at one more potential property, another project aimed for students. I'll update you when I have some news. I didn't think it would take that long to find and invest in a property there.
OUR PERSONAL NET WORTH ANALYSIS
Loans: On the previous posts, I mentioned that we managed to get credits at about half the rate of what we paid so far. So, I immediately started to refinance our loans of what I could. Unfortunately, I made a tactical mistake. I returned the more expensive loan and took the cheaper one, but then had no purposed for the money sitting in the account. 
That money was intended for the UK real estate investment, but as you just read, it takes much more time than I thought. So, to at least cover the interest expenses, I added more fund to our Kuetzal and Crowdestor account. Since we are paying 1.25% on the loans and get 15%+ on the crowd investing platform, I didn't need to invest the whole amount of the loan, just a portion.
I hope that the UK investment will move on soon.
US & Israeli Stock portfolio: The portfolio went a bit up this month. That's one of the main reasons we ended up to be on the positive side of our personal net worth mostly.
US Real estate investment: No news here yet. 
Bitcoin: Bitcoin went down this month. Not a massive change for us, as we don't have a significant holding now. It will be nice if it goes up, of course. Jonathan Levi, from the becoming Superhuman podcast, mentions that whenever there is a sudden drop in the market (Like this month), he is buying more. 
PERSONAL LIFESTYLE AND PROFESSIONAL LIFE UPDATE
TRAVEL
So, last week our 5.5-week workation in the south of Italy ended. Have a look at our adventures. Invited to follow my Instagram account.
As I mentioned above, I have a few trips planned for the next 4-5 months. 
Beijing- November

London – Begining of December

New York  – 12th – 19th of February 
Planned but no date set:
Ski trip with my daughter. I want to take her to a ski school in Europe. Probably in the Czech Republic.

Family trip to Europe
If you are around, get in touch and let me know. I always like to meet my readers.
ETSY STORE
I have new products in my store now. I now also have products for adults and not only for kids.
In a nutshell, let's say you'd like to save for a vacation somewhere. I created a vacation savings tracker for people to visually see how much they saved for that vacation and keep them motivated towards that goal of making it happen.
I have this product for ten countries so far (Italy, France, The Bahamas, Spain, Germany, Japan, Jamaica, The Dominican Republic, the United Kingdom, and India).
For kids, I created countdown activity for the family vacation (31 countries so far). The kids can color the flag of that target country counting down the days before the trip.
Here are two examples:
If you plan on a trip and need a push to stay motivated towards your next vacation, check out my store.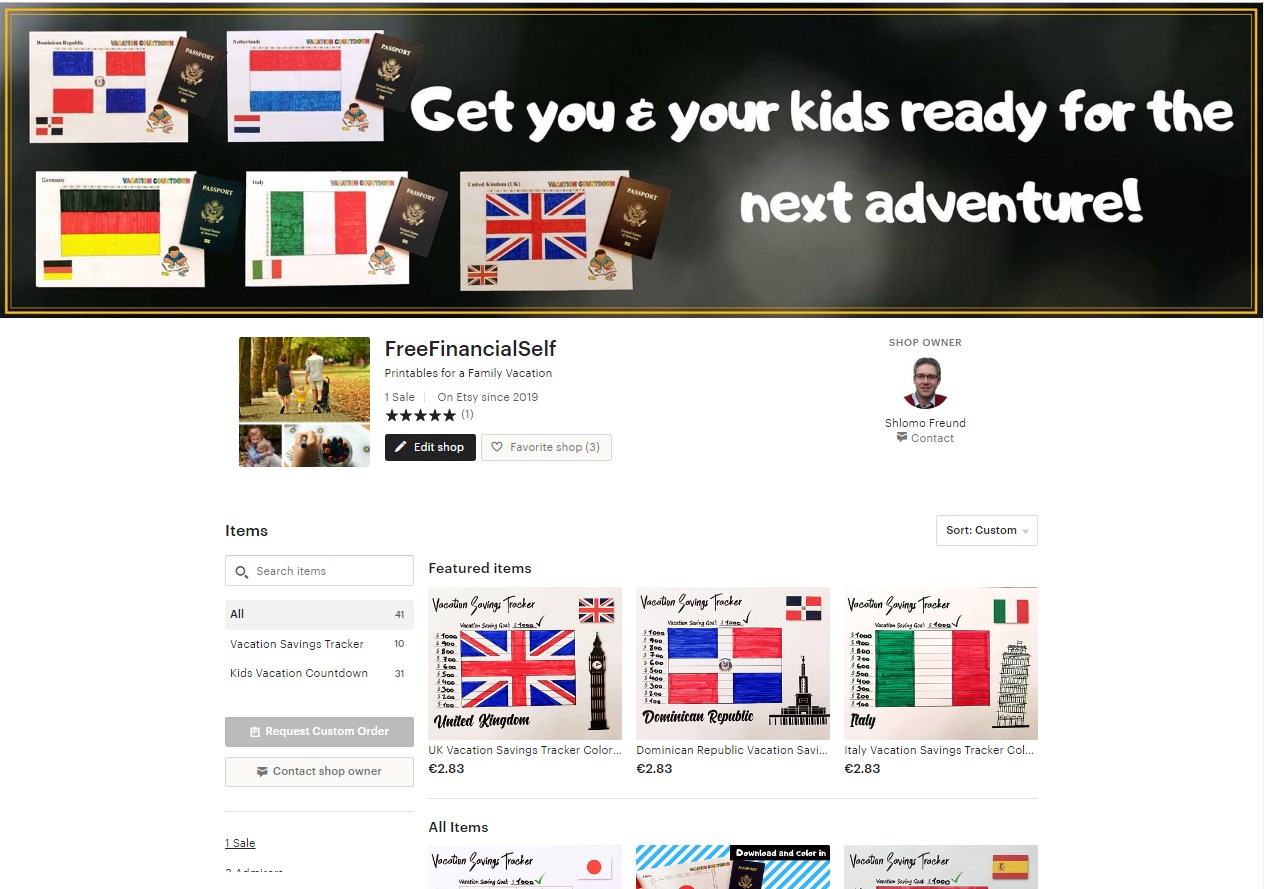 READING UPDATE AND READING CHALLENGE
I'm gaining my reading pace back in the last week since we came back. So, I'll catch up. I need to finish 18 books for my yearly challenge, at least.
So, towards the end of the trip when we were in Sicily, I read this one: Modern Sicily: The History and Legacy of the Mediterranean Island Since the Middle Ages by Charles River Editors. It gives you an overview of what happened. I can't say it's a good book, but if you are looking for a quick read history book, then that will be the one for you. 
I'm still currently reading Inside the Third Reich by Albert Speer. Oh, what a READ, and I'm only halfway on it. It's more than 500 pages (Speaking of finishing enough books for the challenge). 
It's especially interesting as I'm also reading a book called Man's Search for Meaning by Viktor E. Frankl. Victim vs. Criminal.
I'm not sure if I'm going to finish this reading: The Roman Empire and the Silk Routes: The Ancient World Economy & the Empires of Parthia, Central Asia & Han China by Raoul Mclaughlin. My Kindle, unlimited free subscription is about to end. I'm not going to extend it. So, no time. And I have enough to read anyway. Let's see! 
2019 Reading Challenge

Shlomo
has
read 15 books toward
their goal of
18 books.
LEARNING ITALIAN
Is it worth to keep learning Italian? I'm contemplating it. I got along ok with broken Spanish and bad Italian in Italy. But now there is a lack of motivation. What do you suggest?
EXERCISE
No good news here, so, I need to restart the whole exercise habit. I'm back home, so it supposes to be more manageable now.
MASTERMIND JOINT LEARNING
On my weekly mastermind, we started an exciting project, which is joint learning. We decided that we all want to learn something together and then have everyone asking questions and help each other understand more in-depth the learned topic.
The following topic is our first try doing this. We are now learning parts 16-31 of The Ultimate Guide to Safe Withdrawal Rates from Early Retirement Now blog. It's very interesting, and I encourage you to read this too. If you heard of the whole discussion of the 4% rule in the FIRE community, then this analysis will open your eyes with some new data.
Please read my recap of the first 15 parts on the August 2019 update.
We had a few discussions already on parts 16-22, and the conclusion that I'm getting to is that diversifying with other types of investments that give you more than the average 6.6% (CPI-adjusted) is a better way to go. As you see from my investment list, I'm investing in 3 assets:
Value stock investing (6.6% is if you invest in the index and based on American stocks data since 1871)\

Crowd Investing (Projects that pay 15%+ yearly)

Real Estate (I'm looking for investments that give 10%+).
I believe that this blend is more time-consuming managing (Which I like, BTW) but will get me to my financial goals much faster.
FINANCIAL INDEPENDENCE EUROPE FACEBOOK GROUP
In August, I joined as an official moderator of the Financial Independence Europe Podcast Facebook group. I invite you to participate as my readers to the group and have fruitful discussions.
NOW OVER TO YOU
So, how is this update helping you?
Did you discover anything new?
Are you tracking your finances and see the progress?
Is this update too long? Boring?
Feel free to add a comment, I read them all and promise to reply.