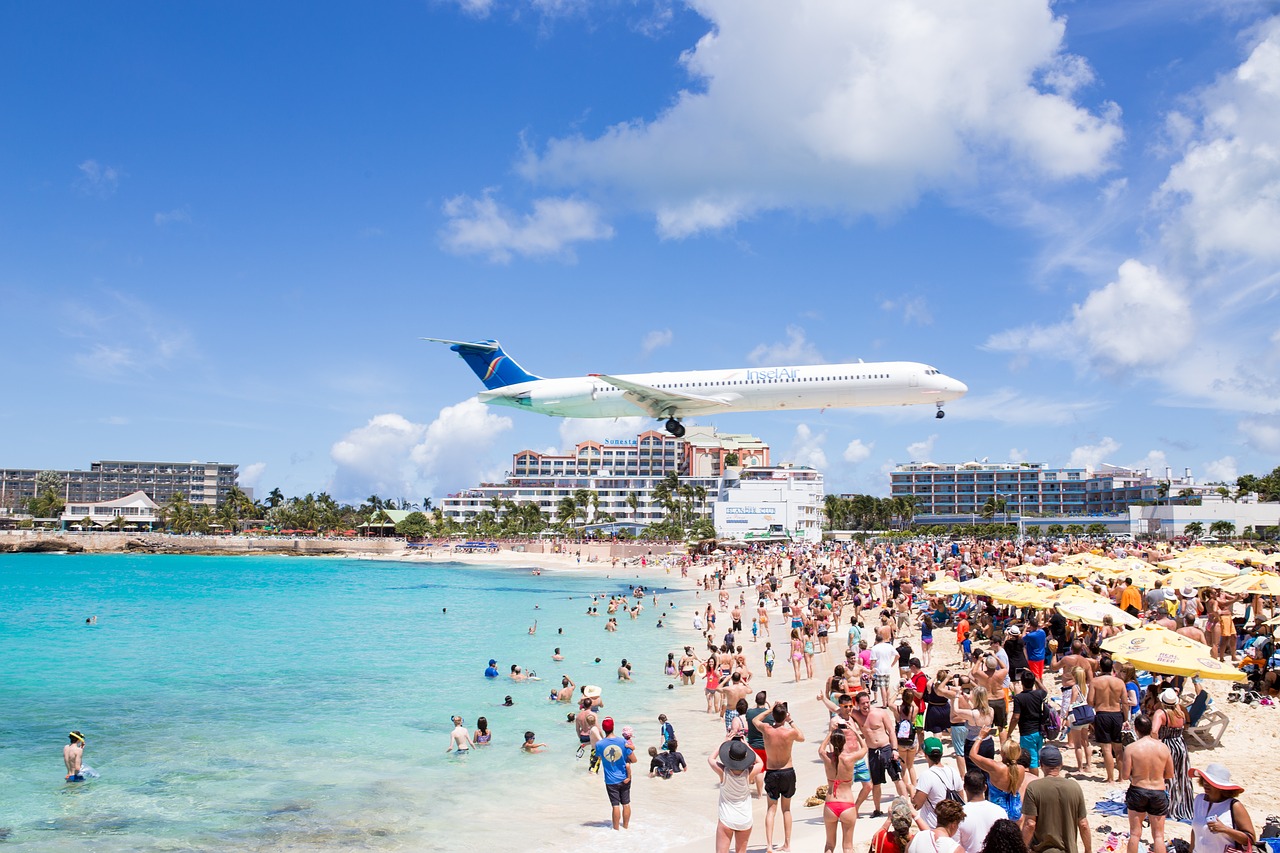 Disclaimer #1: This post contains affiliate links for services I'm using or used in the past. It will help me maintain this blog. Purchasing through my affiliate links is without any extra cost to you.
Disclaimer #2: You should do your research if you should sell your miles or not. While it's not illegal to the best of my knowledge, airline companies don't like that and may suspend your membership with them. So, be careful.
Are you a member of a frequent flyer program but haven't found a good use for your miles/points? Want to make extra cash selling those?
It's your lucky day then, keep reading!
For 6-7 years now, I'm a member of the Aeroflot Bonus program. I lived in China for three years starting December 2011, and since our family is in Israel, we flew 1-2 times every year to see them.
I remember that our first flight with Aeroflot was awful! They had ridiculously old airplanes. But, hey, they were the cheapest possible, and that is really important for a couple who is just moving to a new country with an empty bank account.
Our next experiences with them were quite good. Except for the connection in Sheremetyevo airport, which is not appealing, to say the least, they bought new airplanes, and the service became pretty good. Also, they were almost always the cheapest to go with. So, why not?
Anyway, after a long period of accumulating miles, as you can see, I'm a proud owner of 109533 miles in their loyalty program.
WHY DID I DECIDE TO GET RID OF THE MILES AND CASH THEM OUT?
While Aeroflot became satisfying in their service, a few things happen:
Becoming irrelevant for us – We left China, and except a one-way flight to Sri Lanka for a workation we had, they were not a good fit. It's important to say though that you can still accumulate miles with any SkyTeam member airlines on Aeroflot Bonus, and there are relevant flights with them to other destinations. 
The market changed – When we started flying with them, only El Al, the Israeli flight company, flew directly to Beijing, and they are costly. Now, In 2019, there are already 3 flight companies that fly direct to Beijing from Tel Aviv. That's El Al, Air China, and Hainan Airlines. As there are more ticket options now, ticket prices dropped.

Aeroflot has fuel charges on its bonus tickets, while other airline loyalty programs don't have it. This is the main reason that I'm selling the miles. It's just doesn't worth it.
Here is an example of a bonus ticket that I can use.

As you can see, the return ticket will cost 90K miles out of my 109533 miles on my account. Also, it will cost me 26791 Ruble (that's 425.25 USD of 63 Ruble/USD of the current exchange rate.).
To compare. Here is what I'd pay if I bought a new ticket in Aeroflot.  Next to it, you can also see the price of the cheapest option if I choose so.
It means that my 90K miles are worth in Aeroflot only 144.75 USD (That's the difference between 570 USD and 425.25 USD for fuel and taxes). These miles worth ridiculously less if I choose the cheaper option of 479 USD for a ticket (Though more extended airtime). My miles are then worth only 53.75USD.
Is this what a frequent flyer accumulation of points since 2013 is worth?!
There must be a better way!
So, I did a research on some flight and loyalty program blogs; here is what I discovered. Some loyalty programs do not charge tax and fuel fees on their bonus tickets.
I also found out that the redemption options on all SkyTeam alliance are quite weak. So, the only way to benefit the best from these miles is to sell them.
While there are are many brokers out there, as Aeroflot Bonus is not such a popular option, apparently, I couldn't find any broker that will sell them. That's was true until about two weeks ago…
MYLEFLY
MyleFly is a company that buys your miles from you, AND they also do that for Aeroflot Bonus members.
SO, DO MY AEROFLOT BONUS WORTH MORE THAN 144.75 USD?
Let's have a look:
675 USD!!
I just more than quadrupled the worth of my miles. However, with this option, I'll stay with almost 20K miles out of use. I typed in different miles amount and found out that the next tier is 110000 miles.
1100 USD. Things get better! That's a good deal. I, later on, got an email saying that they buy miles only at multipliers of 30K or 55K and 55K ticket, of course, worth more.
So, I'm currently in a situation where I'm missing 467 miles to get to the lucky number of 110K.
WHAT ARE MY OPTIONS TO EARN ADDITIONAL MILES?
Buy a ticket with Aeroflot or any SkyTeam partner and get more miles – the problem with this solution is that I'd likely pass beyond 467 miles, which will go to waste. With my upcoming flight schedule, it's probably not going to work.

Use Aeroflot partners to get more miles. Which can work, because the amount of miles you get for these purchases is much smaller.
HOW TO EARN MILES FROM AIRLINE PARTNERS?
When we were in Sri Lanka, the Aeroflot Bonus program introduced a promotion where you get double miles for every dollar you spend through Booking.com.
See these Booking.com transactions on my Aeroflot Bonus account? These are small amounts. But this can work if I don't want to waste miles, and these are services that I probably will consume in my next trips.

So, I started to look at the 167 pages of the Aeroflot Bonus partners list.
A few categories were already irrelevant: Luxury brands, banks in Russia, and general shopping websites. We just don't buy things so much.
However, after scanning through, I found out three relevant options that can work.
1. Aliexpress – Israel is a tiny country, but it's for Ali express it's a strategic market. Why? Because Israel is their #4 market. It's a website that sells things for excellent prices. Quality is questionable sometimes, I admit. But for some things we need, it's a great option. We don't buy a lot there, but getting a few points here and there can help reaching my goal. I wish I knew about that partnership long ago. For every 1 USD, I'll spend I'll get 1 mile. That's 467 USD, it's a lot! I'm unlikely to spend that much in Aliexpress. Anyway, good to know about this option.
2. Booking.com – As I mentioned, Aeroflot Bonus has this partnership. I will probably need to book a hotel room on my flight to Beijing or the UK. But I don't know if Booking.com will give me the best deals when I need them. When I travel alone, usually, Airbnb is the best option for me. Also, when we were in Sri Lanka, they had a promotion of 2 miles per 1 USD. So, until this promotion is not back, I'd still have to spend 467 USD on hotel staying or 233-4 USD if they will have that promotion again right when I'd need to book those stayings.
Car Rentals – On most of our travels, we rent a car for a couple of days, not more. If you go to the large companies' websites you will discover that you'd pay a hefty amount for renting vehicles from them.
Have a look at Aeroflot partners: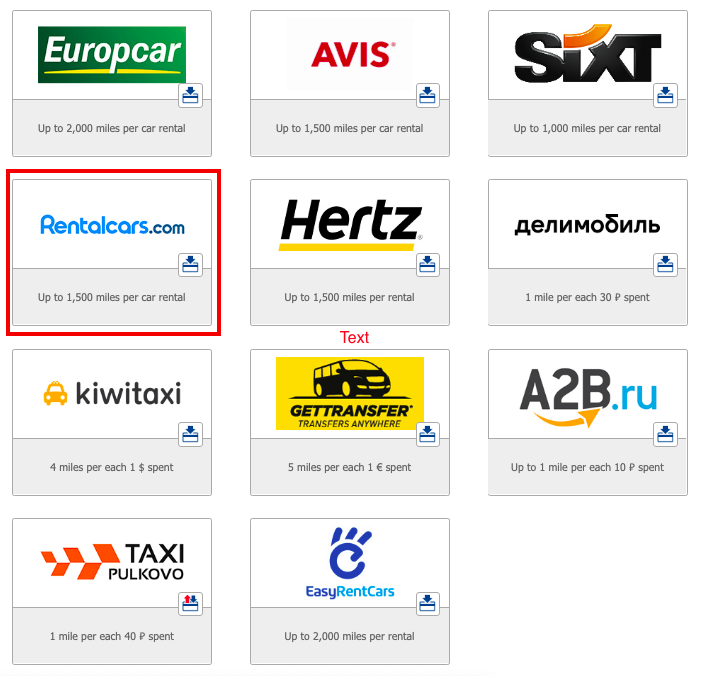 You can find Herz, Sixt, Avis, Europcar. All the big names. Then a few platforms for car rentals.
I've been reading a lot about those car rentals platforms and know-how confusing these may be. Many of them don't give you all the details and have hidden fees. 
BUT…
Rentalcars.com is not one of them. I'm following an Israeli blogger, who is an expert in organizing cheap vacation with her kids. Rantelcars.com is one of the platforms she uses and recommends.
So, let's see what's the deal with Aeroflot:
Five hundred points for a single day of rental!
Let's check the cost for a week of car rental in the Czech republic. I'm planning to go on a ski trip with my daughter, so we will likely need to rent a car there.

66.71 USD for seven days! And, I'll get my 500 miles in need to reach 110K miles.
Besides, I can also get a cashback of 4% through Ebates when I buy through them.
If you wish to get cashback too and a 10 USD starter bonus, sign up for Ebates through my link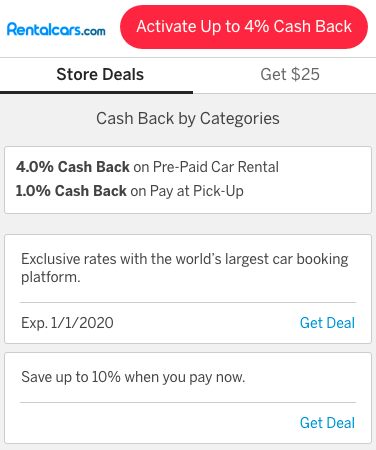 A word of caution here. I haven't checked this deal. But I know the website is reliable. I also know that I might need to buy extra insurance. But anyway, it's a good deal to consider.
Let's check the other option on the car rental list of Aeroflot, easycarrental.com.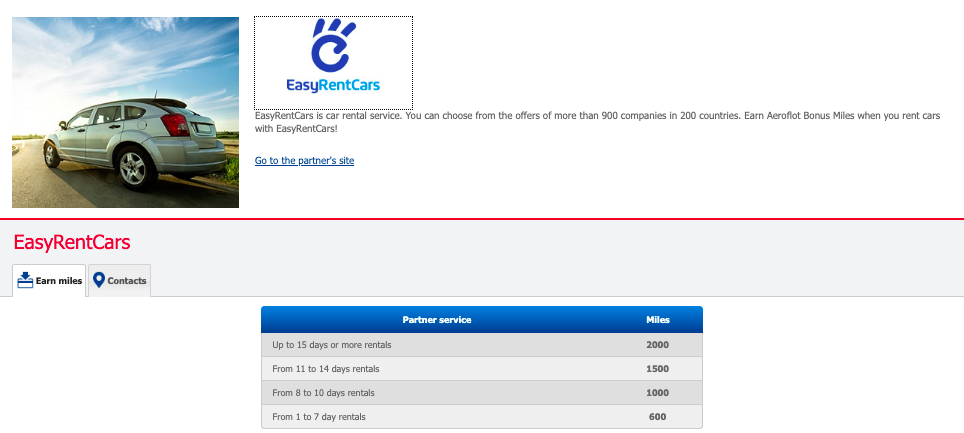 Same with them. A single day of rental will get me beyond the 467 miles I need. Let's look at how much a single day will cost.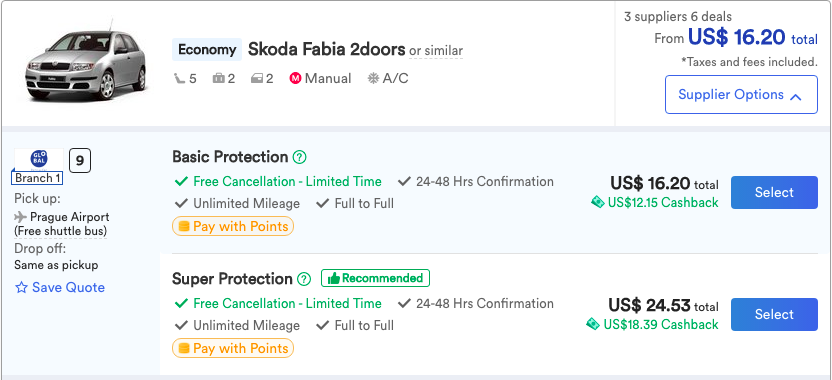 16.2 USD! That's a great deal, to be able to sell my miles for 1100USD. Don't you think?
Easy Car Rentals also give 2.5% cashback when you order with Ebates. 
If you wish to get cashback too and a 10 USD starter bonus, sign up for Ebates through my link
CONCLUSIONS
The conclusion is I'd be able to get rid of my miles for a reasonable price of 1100 USD If I'd invest 16.2 USD in renting a car for a single day. That will be the best option. 
Here is a target for my next trips.
Once I will finish the transaction with MyleFly.com, I'll write an additional post about the experience. For now, I hope my research helped you to understand you can sell your miles, and earn good money for them.
Also, even if you don't have enough miles, you can still get more miles without flying ANYWHERE spending large amounts of money. Your alternative is to spend on things you would have spent on anyway.