Here is my monthly lifestyle update for January 2020
If you wish to read my monthly net worth report, please check it out here
What's in this update for you?
Publishing this update is my way of showing you a holistic approach to live your life. Taking care of your finances should go along with your desired lifestyle. 
This update goes along with my monthly net worth reports, where I'm glad to share my investment details and financial progress.
Related: January 2020 net worth report and more 
Here is what works for my family and me. I get to travel with my family as we are location independent family, go on workations, and spending time with my daughter while homeschooling her.
I hope to inspire you to truly live the way you wish to and work towards it. 
My view is that money for the sake of making money is wrong. You should strive to live the way you wish for. 
Last thing, If you are looking to get your finances ready so you can go nomad,  I invite you for a free financial fitness call with me. Just click the link and book a time on my calendar.
Let's jump in!
PERSONAL LIFESTYLE AND PROFESSIONAL LIFE UPDATE
TRAVEL
So, this week and next week (starting February 12th), I have a trip to New York City. If you are around, get in touch. I have a few open time slots to meet. I love to connect with my readers and get to know them. So, get in touch and say hello if you are around.
here are my upcoming travel plans:
The United Kingdom – 11th-17th of December  Done
Beijing- 29th-2nd of January Postponed not sure to when yet
Europe Ski Trip – 2nd week of January  Hopefully beginning of March
New York  – 12-19th of February – This week

Vienna – 24-26th of February
Planned but no date set:
Family trip to Europe Postponed for now
If you are around, get in touch and let me know. I always like to meet my readers.
ETSY STORE
No changes in my store this month. I now have products for adults and not only for kids.
In a nutshell, let's say you'd like to save for a vacation somewhere. I created a vacation savings tracker for people to visually see how much they saved for that vacation and keep them motivated towards that goal of making it happen.
I have this product for ten countries so far (Italy, France, The Bahamas, Spain, Germany, Japan, Jamaica, The Dominican Republic, the United Kingdom, and India).
For kids, I created countdown activity for the family vacation (31 countries so far). The kids can color the flag of that target country counting down the days before the trip.
I have a request, please. I'm looking for feedback on these products. Please go to the store and check them out. If you decided not to buy, please leave a message in the comments or send me a message on why you chose not to buy it eventually. That will be very helpful.
And here is a tip. When people give you a compliment and useful feedback, it's terrific for your ego but is zero help making progress. Bad feedback is where you can learn and make improvements. So, I'm looking to improve.
Here are two examples: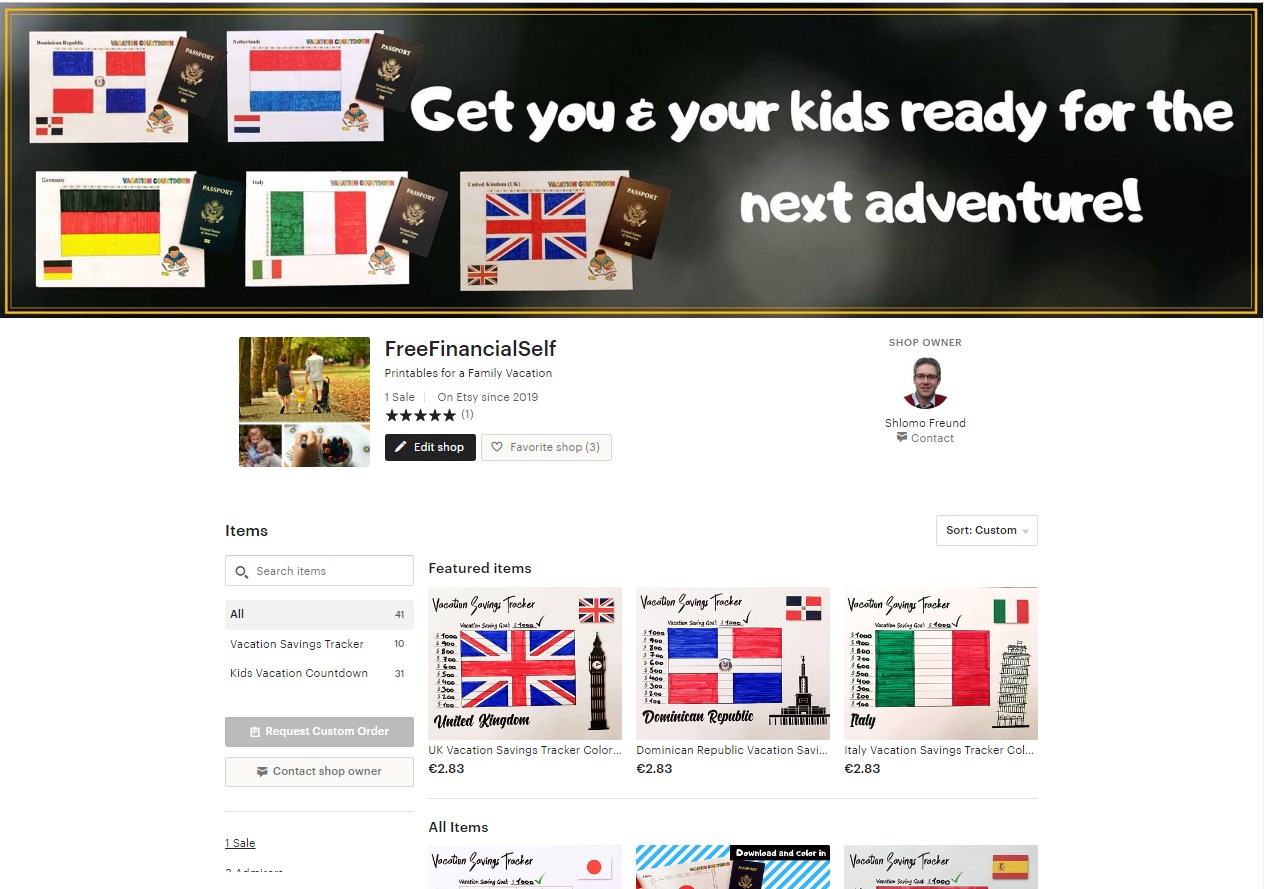 READING UPDATE AND READING CHALLENGE
I'm still reading The Brain that Changes Itself: Stories of Personal Triumph from the Frontiers of Brain Science by Norman Doidge. It's been a joy reading it. So many ideas and understanding from it.
Key conclusion: Keep using your brain in different ways as much as you can; learn a new language every few years (especially if you are old).  Practice the things you are not used to, like writing with your weaker hand (I started scrambling the morning egg for my daughter's breakfast with my right hand instead of the left one).
The more you keep it occupied, the better. 
And here is another one: When you are imagining you are doing something. Your brain then works the same way as if you are doing that very thing. In the book, they experimented with piano players. Their brain wired to play better, even just by them imagining they play on the piano and not actually practicing. So, basically, we can train our brain by just…imagination! 
I finished Ultra learning: Master Hard Skills, Outsmart the Competition, and Accelerate Your Career by Scott Young. This one I 'read' as an audiobook. I really enjoyed it too. I tried to search on Reddit of more people who read that book and join that community. It's good to be part of it, as I want to structure my learning into projects. But I feel I need some community around for support and knowing I'm in the right direction. 
I also finished listening to Building a StoryBrand: Clarify Your Message So Customers Will Listen by Donald Miller. It was a good read too. Interesting in looking at marketing. I might implement some of the things mentioned there. Bottom line: You, the reader of my blog, is my HERO!
I finished reading A Brief History of Humanity By Yuval Noah Harari. It's a popular book. I saw people that said it's the best book they've read. Others hated it. I think it was interesting. However, it makes us as humankind so 'dry'… Read the book and see what I mean. 
SHLOMO'S BOOKSHELF: READ
2020 READING CHALLENGE

Shlomo
has
read four books toward
their goal of
22 books.
LEARNING SPANISH
So, on the previous update, I mentioned that my wife and I bought the Spanish course from I Will Teach You a Language' by Olly Richards. I heard about this course from Mikkel Thorup from the Expat Money Show. Shout out to Mikkel then. It's a cool course, and more interesting than your usual let 's-do-some-more-exercises courses, as you learn the language from stories.
I started with the intermediate level, and my wife started from the very beginning. I soon realized two things:
1. My Spanish is too rusty to go through the intermediate level right away.
2. It's much more enjoyable and consistent studying along with my wife.
Therefore, I started from the very beginning with her. In addition, we also get the help of community tutors from italki.com
EXERCISE
I've been slacking with my stretching again. Yes, it's a struggle. However, I realized that I need something more concrete that I enjoy and can measure progress.
For the past year or so, I'm going to a weekly Yoga class. One of the poses we do (or try to do) every week is a headstand. Upside down poses are an important thing in Yoga. Therefore my teacher never skips these.
So, with headstand, I can easily see my progress (or lack of progress), and I also really enjoy it. My daughter also loves it. She likes to push me when I try to do that and prevent me from doing the actual headstand. More challenge… 🙂
So, for now, I'm going with a daily headstand practice. I hope to show you a video here on the next update for February of me doing a headstand.
Here is how it should look:
FIRE MASTERMIND
We have a meeting of our mastermind group face to face in Vienna (See the travel section). I'm very excited. I'm flying there for less than two days. The best part is: The flight was only 16 EUR. How cool is that?!
I saw that the price of the flight and decided to buy it even that I wasn't sure then that I'm going to go.
JUST LIFE
NOW OVER TO YOU
So, how is this update helping you?
Did you discover anything new?
Are you tracking your finances and see the progress?
Is this update too long? Boring?
Feel free to add a comment, I read them all and promise to reply.