This is my monthly report of our personal net worth progress for June 2019.
I'm sharing this to show how important it is to track your net worth and seeing the progress. This is what I also expect and advise my clients.
From tracking your personal net worth and see how much you are worth, you can learn what works and what you should change in your finances.
It's the first step to eliminate money as a source of stress and gain confidence in your future finances.
If you'd like to also see how much you are worth the way I do, I created this tool, especially for my readers. You can get it here.
Also, if you'd like to read the previous report to get the flow of things you can check it here – May 2019 personal net worth report. This is the page with all previous reports is here.
If you don't know what the net worth definition is, check it here.
I invite you for a free financial fitness call with me. Just click the link and book a time on my calendar
Let's jump in!
So, this month our personal net worth was up by 0.92% and our savings rate was 44.19 %. Our 2019 average savings rate so far is 35.71%. It's low in my opinion but this is due to January and February have two major expenses. Some on the flight ticket to Sri Lanka for our workation and more on payments for a survey of the house I was planning on buying in the UK (See below current status).
Envestio: Envestio didn't introduce any new projects this month. But on the p2p community investors that were in touch with them been told they are signing a 10 million EUR deal with a partner and they will be able to introduce more projects. It got to a point where it became very hard joining a project with Envestio  as their projects were funded very quickly. Some even in minutes. Envestio still doesn't have an auto invest feature.
So, I guess this is the way of addressing this problem and moving on to the next level for them as a company. I look forward to seeing what they bring in. I have a cash drag of 20%+ of my funds in my Envestio account. 
Meanwhile, I propose you'll open an account with them if you are interested in crowd investing. They have a 100% success rate on their projects so far. 
If you do decide to join Envestio through my link, I'll get some bonus from them to invest more in my portfolio and you'll get an extra 5 € bonus + 0.5% cash back for the next 270 days after you invest
Crowdestor: I doubled my funds with Crowdestor this month. I thought that I'm missing opportunities there when waiting for that UK investment to mature (see below). They had some good paying projects which I added money in, but they are also now at the point of not presenting projects fast enough. 
I invested most of the money I put in in a real estate renovation project in Riga paying 21% per year. Crowdestor is about to introduce 2 new projects paying 13% and 14%, also in Latvia, very soon. By the time this post is published the projects will be open for funding too.
Most of their projects are in Riga, Latvia. What I was concerned a bit is putting all my money in projects in Riga. Therefore a left some of my funds in cash waiting for more projects. The 2 new projects, though paying less than the previous projects, are in totally different industries. One of them is forestry, which is one of the main industries in Latvia (Forests are covering more than 50% of Latvia).
You can check more of Crowdestor's projects on their website.
Kuetzal: This is the newest platform I joined. This month I x5 my investments with them. Kuetzal has lots of projects running now (but not all of them with a buyback guarantee, so choose wisely). 
I put more money in and diversified between more projects there. With Kuetzal, I also tried to diversify out of Riga area and with Kuetzal you have more options to do that.
Kuetzal has a good promotion until the end of August. They give you at least 1% cashback on investments larger than 1000 EUR in a single project. Now pay attention here, because I made a mistake and lost money. You need to have a single deposit in a single project and not have any 1000+ EUR split between a few projects. I didn't get that and therefore for some of the projects I didn't get my cashback bonus. It's annoying, but Kuetzal was kind enough and added 10 EUR to my account as compensation. 
Here is the table of the cashback. You get instant 1-3% return on the investment right away into your account and of course, can invest it again if you'd like or withdrew as a profit.
21.1.20 Update: I no longer recommend Kuetzal. I invested through them. However, large parts of that business were a scam and under investigation. I'm not sure I'll see my money back in this case.
If you do decide to join Keutzal through my link, I'll get some bonus from them to invest more in my portfolio and you'll get an extra 0.5% cash back for the next 180 days after you invest
UK property: So, if you've been following I was negotiating to buy a single house in the north of UK. After a long process, the seller declined my offer and therefore I withdrew from that deal. If wasn't worth it. However, right after, I started looking at a better deal with other partners for a multi-apartment student building and we are now negotiating this one. I'll update once there is more progress there.
Conclusion: You can't always get what you want, but then you may have a better opportunity coming up right at you. 
Let's jump into the details of our personal net worth
OUR PERSONAL NET WORTH ANALYSIS
Loans: So, I got the balloon loan of the amount I was interested in from the bank. However, they did increase their interest rates every time which is annoying (now 2.6%) but at least I got it and this money is making more than that (Compare that to the 15% interest I'm getting in the crowd investing platforms).
Things got even better though. This month we manage to get a members credit card and they offer very low-interest rate loans of 1.25%. Once I'll refinance our loans we will pay on most of them less than half. So, we are in the process of giving them the documents and I hope that I'll have good news next month. I encourage you to keep shopping for good loans and pay less on those. The market is always changing and that can save you lots of money depending on the amount you borrow of course. 
US & Israeli Stock portfolio: Nothing interesting there. The portfolio worth stayed about the same.
US Real estate investment: No update here yet. I hope for some news coming up till September.
Bitcoin: Bitcoin is making a comeback now and as you probably noticed, now that the value is going up again people talking about it more. Our little investment in it went up of course. 
PERSONAL LIFESTYLE AND PROFESSIONAL LIFE UPDATE
Travel: We are planning our next workation for 1 – 1.5 months. This time in Europe. We are thinking of doing house-sitting for a few weeks perhaps in London, then stroll down or fly depends how time permits to Sicily as my wife's company have their annual meeting there mid-September. More details when we finalize our plans. For now, I know I have quite a few readers from Europe. So, ping me, I'd love to meet if the schedule will work. 
Etsy Store: Last month I reported about my Etsy store. With products for kids. Here is the store: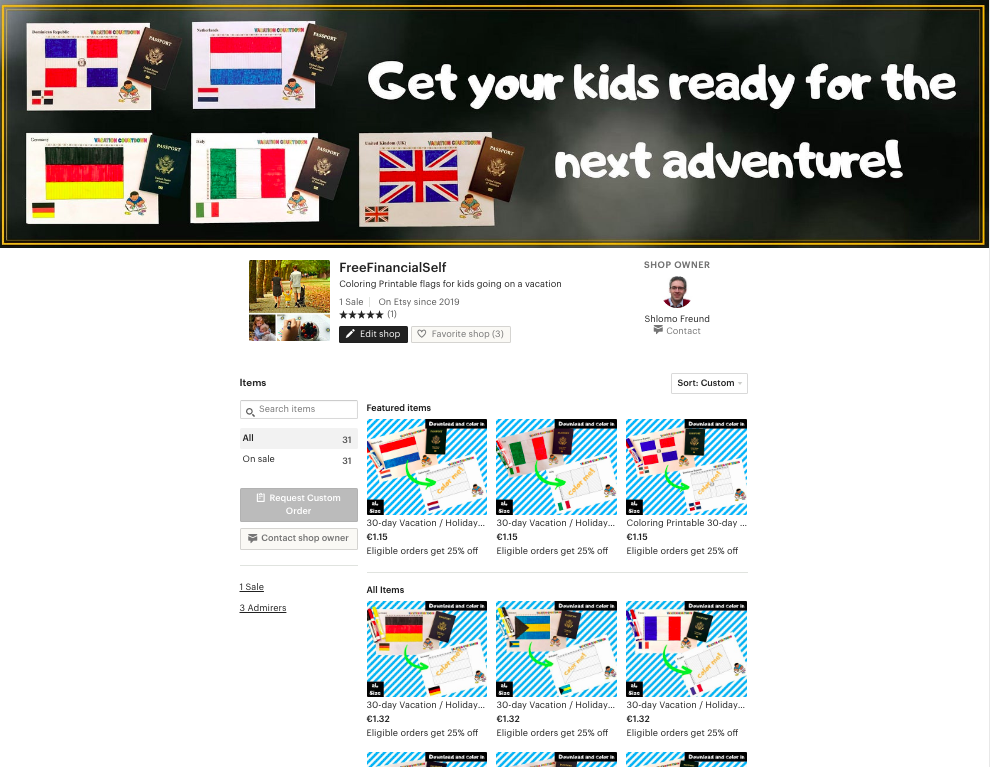 Because I love traveling and I have a young kid, I developed these vacation countdown fun activities for kids.  And While I love the product, apparently the buyers for this kind of products are not on Etsy. I tried different promotion and kept improving how the store looked, but it didn't bring any results.
But I'm not putting my hands down yet on this.
I'm working now on additional product this time for adults. The kid's products will be a good match for the adult's product.
What I'm preparing is a savings tracker for a vacation depending on your destination. So, while you (Yes, YOU!) planning a vacation in the UK and want the visually track and prepare for the trip, your kid will get ready by counting the days and anticipating for the trip with the kid's product. I'm now offering different promotions on the store so check it out!
If you don't find something you like. Click on the button to follow the store and you'll get a message when I'm adding or changing products.
Travel social impact: Last month I started a social impact campaign for the kindergarten in Sri Lanka where my daughter stayed for 3 weeks and it's teacher. The campaign ended and I managed to raise about 70% of the needed money for the teacher's operation and for the benefit of the kindergarten.
If you still wish to donate please send me a private message on this. The money is still needed. It's a chance to give back to the communities we visit.
Take a moment to read the whole story here: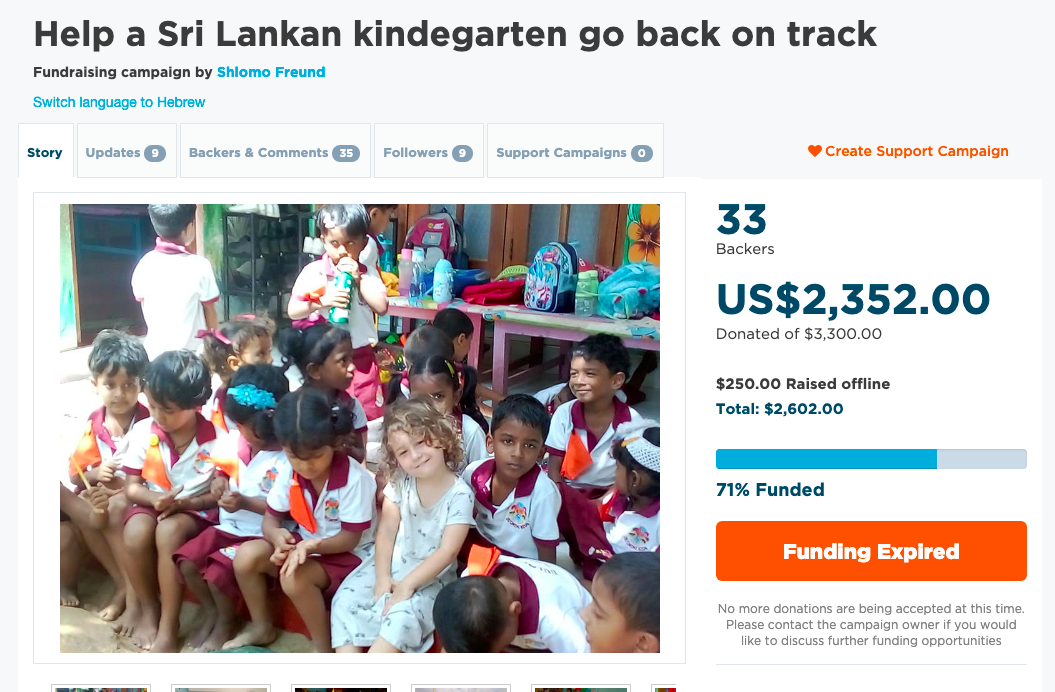 Interview: I was interviewed to the Expat Money Show with Mikkel Thurop. We spoke about financial Independence for expats.
I Also spend some time there explaining what crowd investing and p2p are. I talk about all 3 crowd investing platforms that I'm in. Envestio, Crowdestor, and Kuetzal
Related: Interested to align your life and lifestyle goals with your financial goals? Interested in eliminating money as a source of stress and gaining confidence in your future finances?
I invite you for a free financial fitness call with me. Just click the link and book a time on my calendar.
Reading: I finished reading The Paleo Diet: Lose Weight and Get Healthy by Eating the Food You Were Designed to Eat by Loren Cordain. What can I say? This book was so confusing for me. After I read other's reviews of disagreeing with him, I got to be more confident in my Paleo diet.
On a side note, I also went to a naturopath who claimed to know about Paleo diet. After visiting her I could clearly see she had no idea about some basic concepts in this diet. Still, I felt even more confused a couple of days after that visit. 
I'm now trying to reach to a doctor who actually treats people using the Paleo diet and let her look at my blood tests. More to come.
I'm also currently reading a book called Good to Great: Why Some Companies Make the Leap… and Others Don't by Jim C. Collins. I heard about this book so much and bumped into it in a tiny street library where we live. I got the Hebrew edition. It's an interesting read, I recommend. 
I invite you to follow my Goodreads profile and read along with me. I'd love to share ideas.
2019 Reading Challenge

Shlomo
has
read 11 books toward
their goal of
18 books.
Lifestyle (& Exercise): Exercise and Yoga are going great. My goal with the daily exercise was touching my toes without bending my knees. So, I'm able to do that! It's still super difficult and I can actually achieve this only at evening time after been moving my body for the whole day. 
A few days ago I started learning Italian. This is because we will be in Sicily in September, so it's a good motive to learn the language (and yes, I know that Sicilians also speak Sicilian. But I decided to go with the language with more people speaking it. Also, my teacher confirmed that they also speak Italian).
It actually started after I listened to the recent episodes on the Expat Money Show, speaking about learning languages. Mikkel Thorup interviewed Olly Richards who has a business for teaching different languages. He has a wonderful new approach to language learning.
The funny thing is that he also said that he wanted to learn Italian and documented his 3 months project to achieve this on Youtube. So, it's easy for me to just watch these videos and figure out what he did. I'm much slower than him though.
Here are some the things we did last month:
NOW OVER TO YOU
Share your thoughts. How do you align your desired lifestyle and finances?