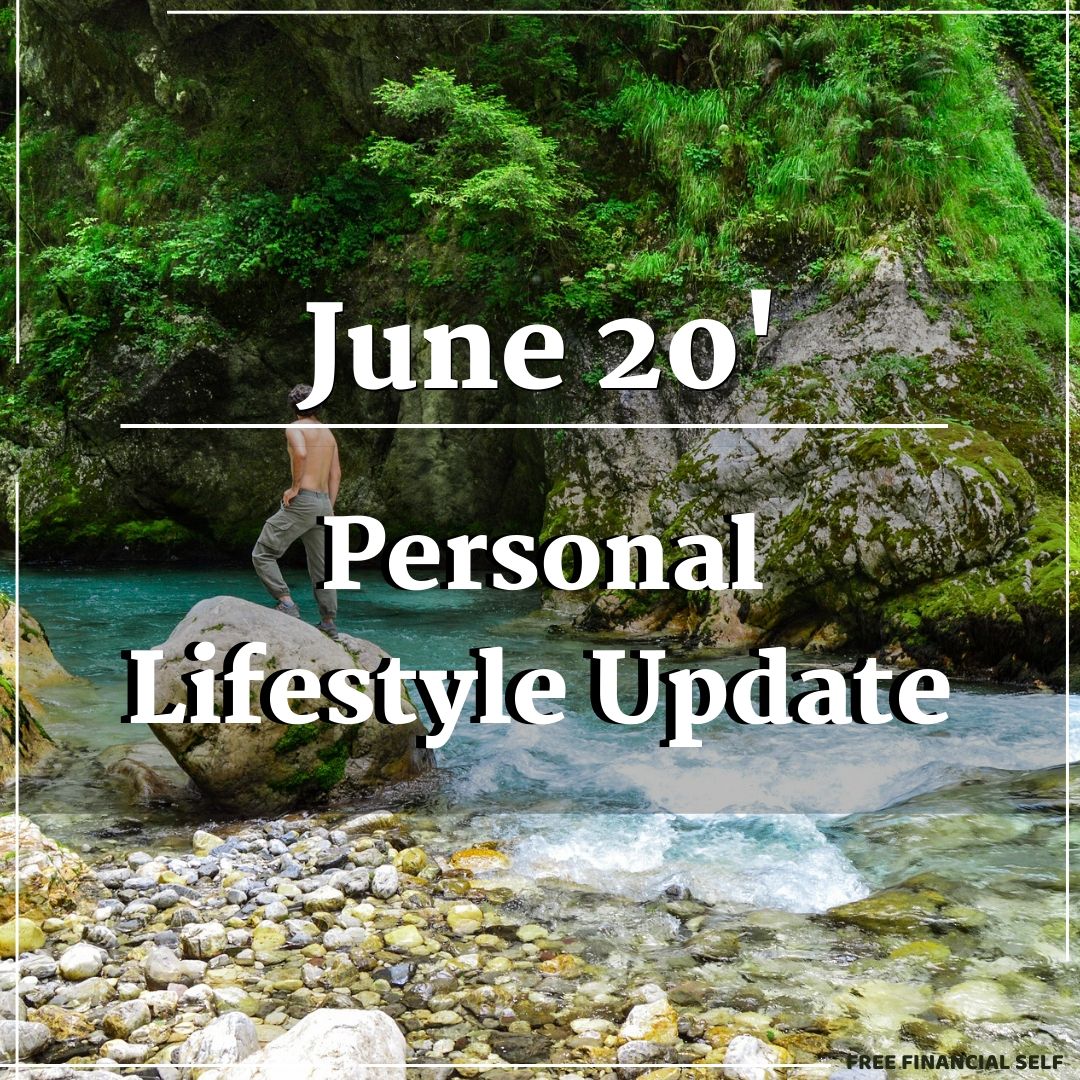 Here is my monthly lifestyle update for June 2020.
What's in this update for you?
Publishing this update is my way of showing you a holistic approach to live your life. Taking care of your finances should go along with your desired lifestyle. Here you can read all the previous updates.
This update goes along with my monthly net worth reports, where I'm glad to share my investment details and financial progress.
Related: April 2020 net worth report and more 
Here is what works for my family and me. I get to travel with my family as we are location independent family, go on workations, and spending time with my daughter while homeschooling her.
I hope to inspire you to truly live the way you wish to and work towards it. 
My view is that money for the sake of making money is wrong. You should strive to live the way you wish for. 
Last thing, If you are looking to get your finances ready so you can go nomad,  I invite you for a free financial fitness call with me.
Just click the link and book a time on my calendar.
Let's jump in!
PERSONAL LIFESTYLE AND PROFESSIONAL LIFE UPDATE
SHARING MY KNOWLEDGE
How to Work Remote effectively? – Last month I released the following video, which got excellent responses. I'm planning on releasing more of these for remote working. What questions do you have that you'd like me to make a video on? Let me know in the comments, and I'll publish more of these. 
Here is the first video: 
TRAVEL & CORONA VIRUS UPDATE
Not much is going on on this front. We already have the travel bug coming up, and we say to ourselves we would like to go on another adventure. However, it's obviously quite complicated now, and there are other personal reasons for us to postpone another trip for now.
No more lockdown in Israel, there are only a few restrictions left. The number of new people getting infected every day is now on the low tens in the last few days. Let's hope the trend continues.
As for the next place, we'd like to go. We have a few options we consider.
Going back to Chiang Mai for 2nd round. We had a lovely 2.5 months there three years ago, and we love the vibe of that place.
South of Spain – In a little town called La Herradura, there is a vibrant homeschooling community, which we would like to get to know more. We have friends who lived there, and we would like to try it too.  As mentioned before, my wife and I are learning Spanish, and even our 4-year-old is interested. So, that' will be good for our language skills as well.
Central America – I'm interested in exploring a completely new place. I've never been and curious to discover.
Fiji – We have an invitation from a friend coming to visit there. Two things that make it challenging. a. It's very far; therefore, while we go there, it's worth making it a long trip to Australia and New Zealand also. b. It's an expensive trip which for now I'm not sure we can afford. So, a low chance of going for this option.
Wondering, what is your next destination? And can you perhaps recommend and give more ideas to me? Write it in the comments.
ETSY STORE
No changes in my store this month. I now have products for adults and not only for kids.
In a nutshell, let's say you'd like to save for a vacation somewhere. I created a vacation savings tracker for people to visually see how much they saved for that vacation and keep them motivated towards that goal of making it happen.
I have this product for ten countries so far (Italy, France, The Bahamas, Spain, Germany, Japan, Jamaica, The Dominican Republic, the United Kingdom, and India).
For kids, I created countdown activity for the family vacation (31 countries so far). The kids can color the flag of that target country counting down the days before the trip.
So far, the store didn't bring in the sales I intended to bring. So, I contemplated if I should close it or not.
In the last two months, I've mentioned I'd give it till May. Some of my listings were set to renew in May. Therefore I canceled these so I won't be charged on them (Etsy) charges you every four months for renewing a listing).  I still have some listings that run. I invite you to have a look at the store. Because I'm closing, I'm glad to give a generous 35% discount on the products. But there is a catch… Just kidding!….
To get the discount code, you'd need to send me a message. I'm glad to share it with you.
Here are two examples: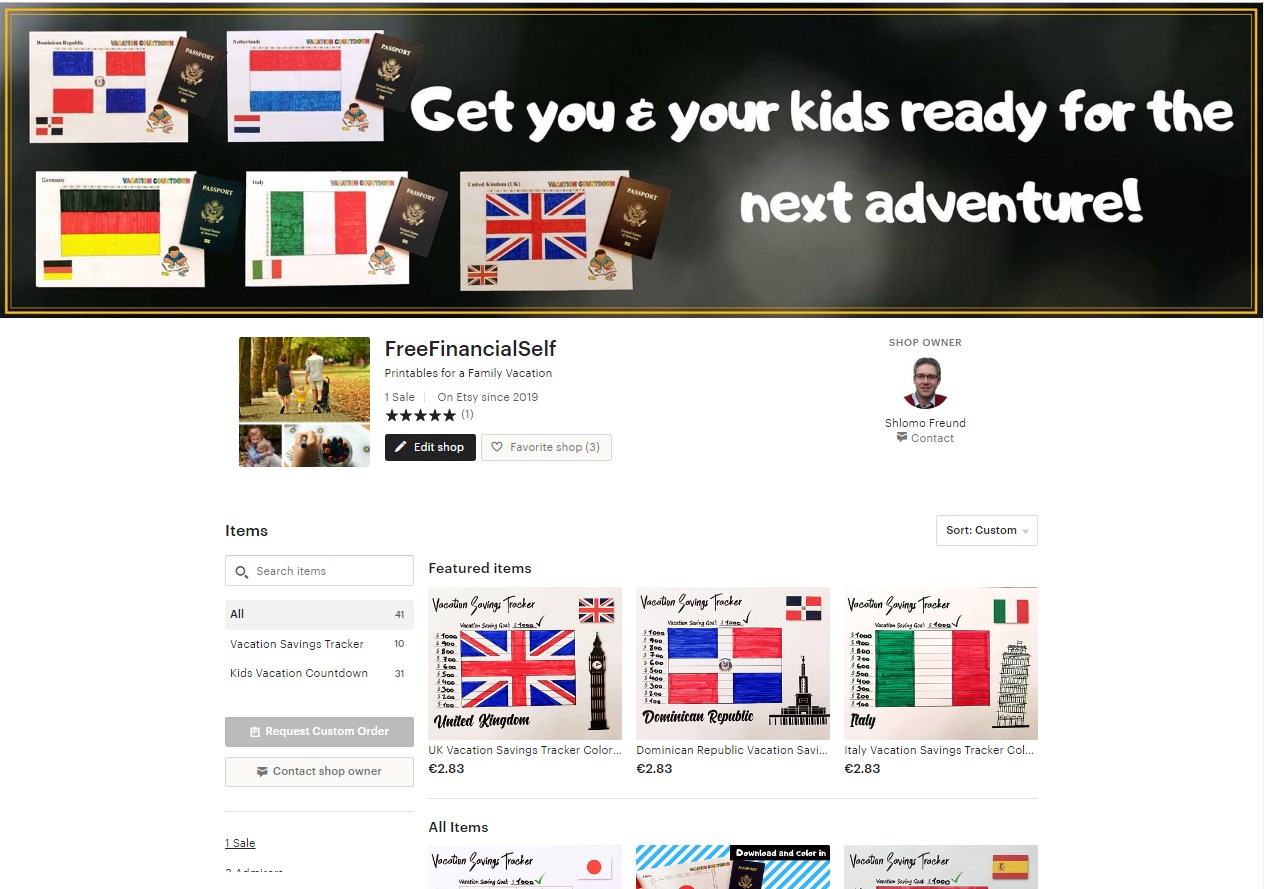 READING UPDATE AND READING CHALLENGE
I already finished reading the book From the Holy Mountain: A Journey Among the Christians of the Middle East by William Dalrymple.
I started reading the book called The Five People You Meet in Heaven by Mitch Albom
I'm still reading the book The English and Their History by Robert Tombs
2020 Reading Challenge

Shlomo
has read 11 books toward their goal of 22 books. hide
11 of 22 (50%)
view books
LEARNING SPANISH
My wife and I keep learning Spanish together, and we enjoy this more and more. We now do several things:
We are in the middle of a course by Olly Richards: Spanish uncovered. We are finishing lesson #5 currently. 
We are taking live lessons with a community teacher from Costa Rica we found on italki.com
A few weeks after we signed up for Olly's class, we got a signed copy of his book – Short Stories in Spanish for Beginners (Teach Yourself). It's not too easy, so it's not exciting and not too hard, so you don't get anything when reading. It's well written and has a vocabulary list and questions at the end. We enjoy reading them.
EXERCISE
Also, once a week, I'd like to have a long bicycle trip with my daughter. So, this will count as exercising too (25 KM carrying a 4-year-old at the back of the bicycle is intensive enough for me). My goals are doing rides longer than 10 KM to count as the daily exercise.
WEEKLY BICYCLE TRIPS
Here is my last trip with her: 
https://www.instagram.com/p/CAFZWs0h4n5/?utm_source=ig_web_copy_link
DECLUTTERING
I started two decluttering experiments 1-2 months ago. See the previous post explaining the reason behind it under decluttering. These are:
Getting rid of huge piles of dishes in the kitchen sink – It's a success. We definitely have smaller piles of dishes now in the sink. And it really doesn't look overwhelming as it used to be. 
Getting rid of large unfolded piles of laundry – We managed to eliminate vast piles of laundry lying down at home, waiting to be folded. That's a success. 
So, I encourage you to see how you can change things in your environment, instead of struggling with bad habits. Go declutter!
FIRE MASTERMIND
We moved back to a weekly call, which is better than once every two weeks.
Next week we are about to work on our group project for this cycle. We will work on finding our job strengths and weaknesses. I will update you more on this next time.
JUST LIFE
https://www.instagram.com/p/B-7N-WCBskG/?utm_source=ig_web_copy_link
https://www.instagram.com/p/B_wpgVmD1N0/?utm_source=ig_web_copy_link
NOW OVER TO YOU
So, how is this update helping you?
Did you discover anything new?
Are you tracking your finances and see the progress?
Is this update too long? Boring?
Feel free to add a comment, I read them all and promise to reply.