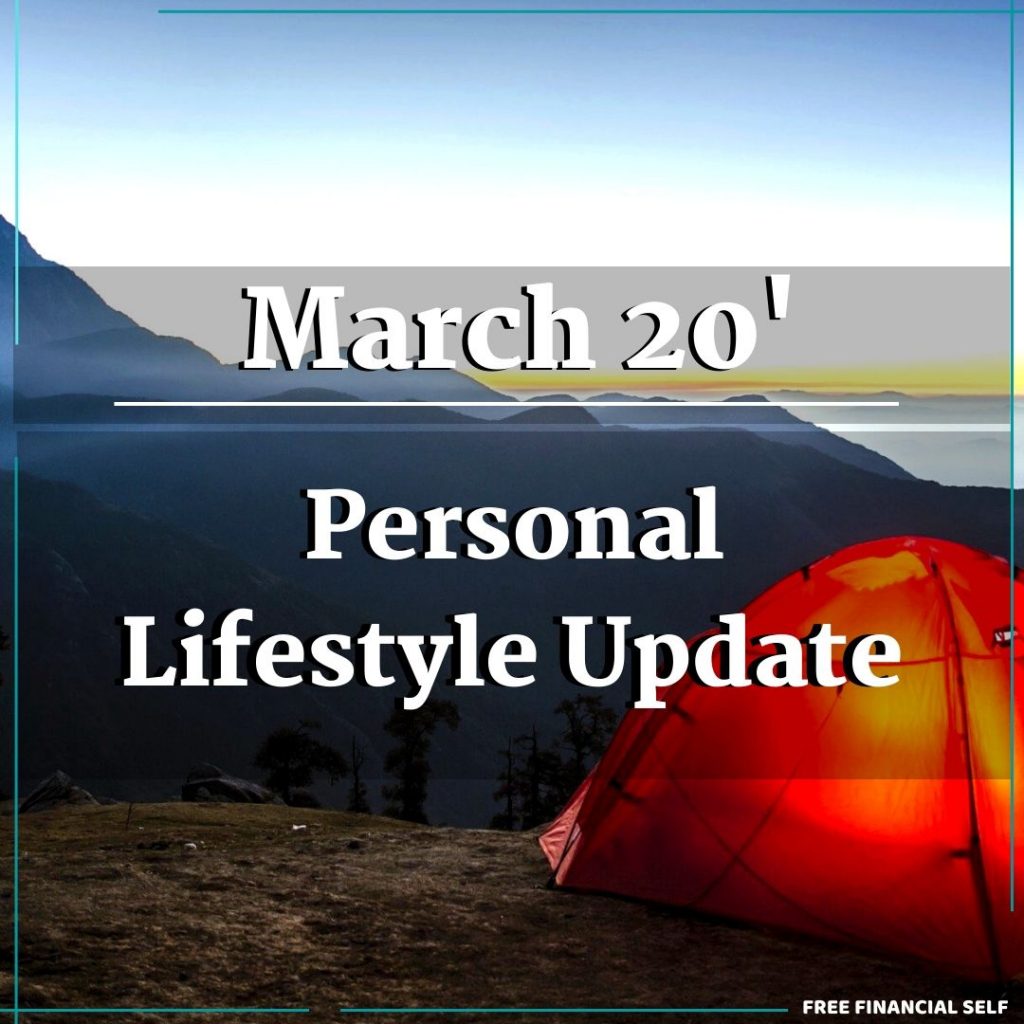 Here is my monthly lifestyle update for March 2020.
What's in this update for you?
Publishing this update is my way of showing you a holistic approach to live your life. Taking care of your finances should go along with your desired lifestyle. Here you can read all the previous updates.
This update goes along with my monthly net worth reports, where I'm glad to share my investment details and financial progress.
Related: March 2020 net worth report and more 
Here is what works for my family and me. I get to travel with my family as we are location independent family, go on workations, and spending time with my daughter while homeschooling her.
I hope to inspire you to truly live the way you wish to and work towards it. 
My view is that money for the sake of making money is wrong. You should strive to live the way you wish for. 
Last thing, If you are looking to get your finances ready so you can go nomad,  I invite you for a free financial fitness call with me.
Just click the link and book a time on my calendar.
Let's jump in!
PERSONAL LIFESTYLE AND PROFESSIONAL LIFE UPDATE
NEW WEBSITE
I'm very excited about this. After a couple of months of work, I redid the home page and the about page of FreeFinancialSelf.com. Glad to present it to you. Have a look and let me know what you think.
On the home page, I changed the messaging to reflect better how I can help people.
On the About page, I rewrote my story, so you'd understand why I do what I do.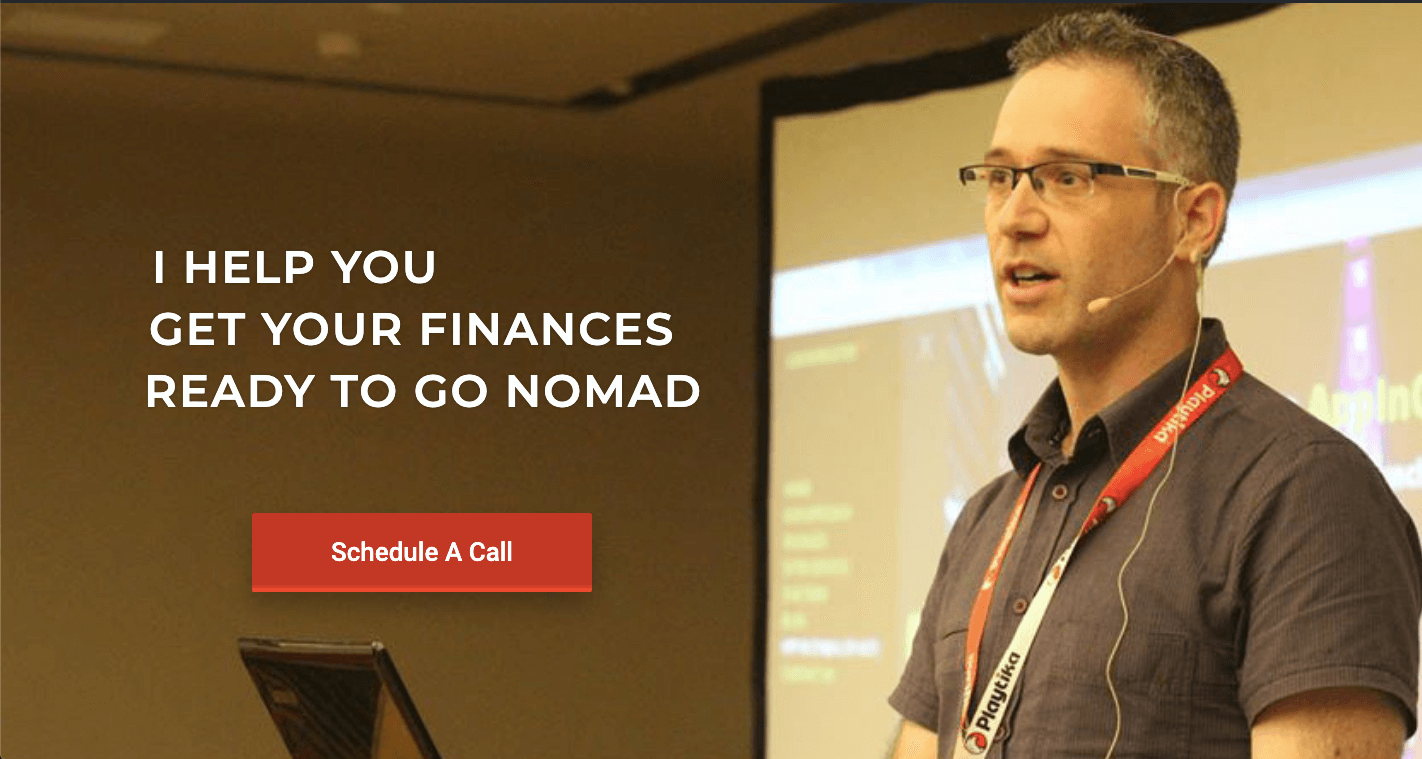 Have a look and let me know what you think.
MEDIUM ACCOUNT
If you prefer, I started sharing my posts also on Medium. You can find me there now too. I share there all my posts that are not monthly updated. When you follow my profile, you will get a message whenever a new post is published. 
On once thing that happened, is that a publication named The Capital asked me to be their contributor and add one of my posts about 5 Things You Need to Do to Reach Your Financial Freedom Faster. 
SHARING MY KNOWLEDGE
How to Work Remote effectively? – New Video As some of you might be reading this while still in lockdown. I'm glad to share the first video I produced "How to work remote effectively?". I have a lot of experience with it, and by now, I think I found the formula that works for me, and perhaps to you too. So, I'm glad to share it with you. I got a lot of good responses to it.
Here it is:
NomadX facebook live & China Business Cast 100th post interview –  Two interviews that I joined as a guest were published this month. One was a Facebook live I did with Oli Nold from NomadX nomads community. It's a cool community of people who work remotely.
I used to be the co-host of China Business Cast up about 1.5 years ago. Celebrating the 100th episode, they invited all former co-hosts as guests. Reflecting on what happened since. I share openly where I am now in life & why I stopped hosting. Generally speaking, if you are interested in a podcast about business in China, China Business Cast is the oldest running.
My friend, Mike Michelini, is also interviewed, and Jons Slemmer from RedStar China is doing a fantastic job bringing more guests in and keeping it interesting. Congrats on the milestone!
Hey, That's My Money – One more thing. One of the most popular pages on my blog is my review of PocketSmith. Just noticed that Hey That's My Money added it to their list about finance tracking reviews. Check it here
TRAVEL & CORONA VIRUS UPDATE
So, the world is in lockdown, and so are we. I'm thankful for all the things we have now and appreciate them. We still have our jobs; we live in a house with a yard, so we can go outside and even get to see some nature very close to the home.
Many people suffer now. I'm thinking of them. You can read my monthly net worth updates and see how I invest and manage my money and investments. Even at these bad times, I'm very confident it will not hurt us long term. I see others who make mistakes that could have been avoided just by managing their money differently. Consuming less, saving, and investing more.  Especially during these times, I'm here to help. So, get in touch.
ETSY STORE
No changes in my store this month. I now have products for adults and not only for kids.
In a nutshell, let's say you'd like to save for a vacation somewhere. I created a vacation savings tracker for people to visually see how much they saved for that vacation and keep them motivated towards that goal of making it happen.
I have this product for ten countries so far (Italy, France, The Bahamas, Spain, Germany, Japan, Jamaica, The Dominican Republic, the United Kingdom, and India).
For kids, I created countdown activity for the family vacation (31 countries so far). The kids can color the flag of that target country counting down the days before the trip.
So far, the store didn't bring in the sales I intended to bring. So, I contemplated if I should close it or not.
For now, I decided to give it another chance until May. So, if you wish to support me, please go to the store to buy a product if you want to or tell about it to a friend and share the stores' link with them. 
Here are two examples: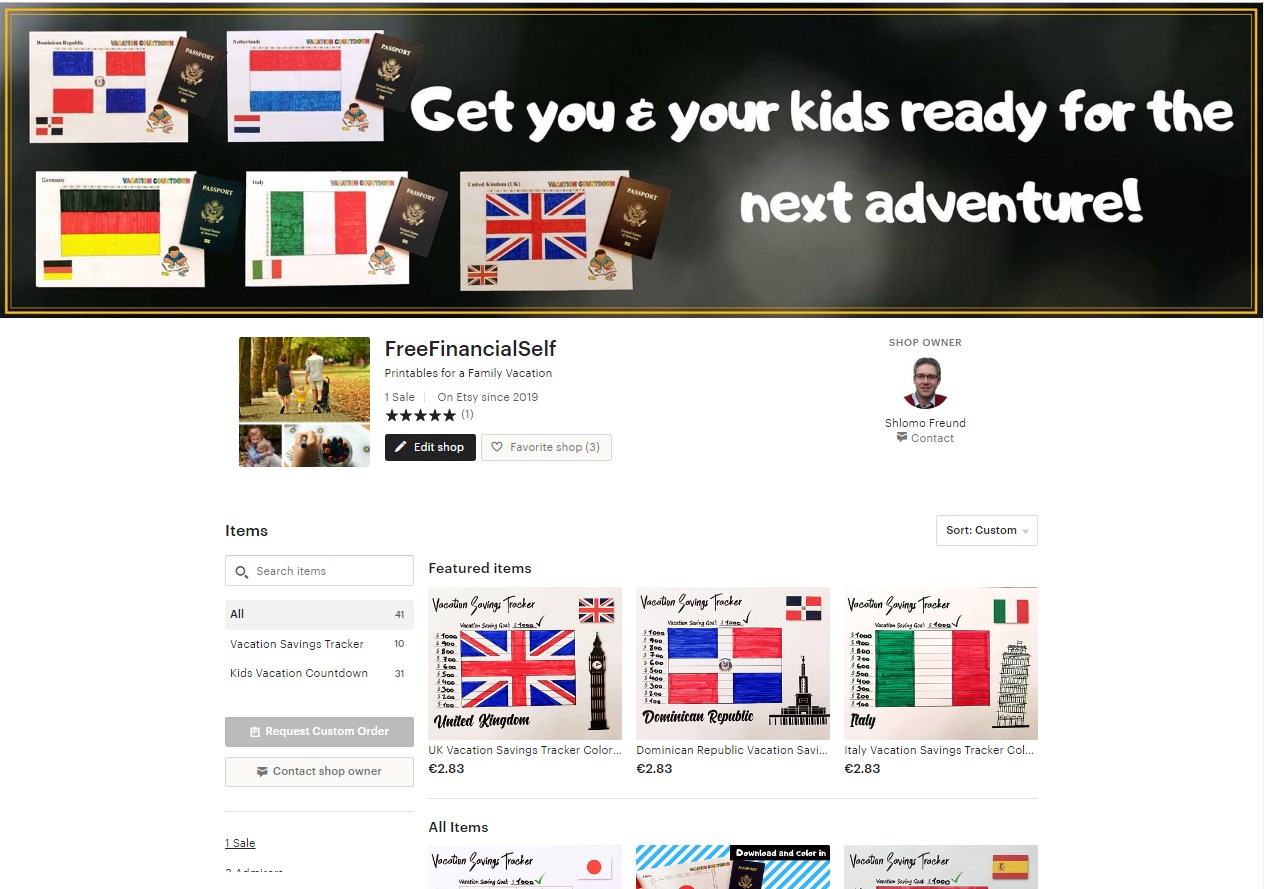 READING UPDATE AND READING CHALLENGE
I started and, for now, stopped reading The English and Their History by Robert Tombs. This will be a slow read for me. 
I finished listening to the book  Profit First: Transform Your Business from a Cash-Eating Monster to a Money-Making Machine by Mike Michalowicz. While I loved it. It's hard to consume as an audiobook, which I don't recommend. 
My friend, Josh Steimle, recommended it to me 1-2 years ago, and only now I got to finally 'read' it. Thank you for recommending Josh.
The idea in the book is paying yourself first from your business BEFORE paying all the rest. There is a system that is presented on how to do it (and I'm sure it is much clearer when you read and not listen to the book).
One technically challenging thing that I bumped into. I can't implement this method for the simple reasons that banks in Israel don't allow for a virtual account under your account. So, I can't allocate money to different purposes without moving it to a new account, which costs more money. So annoying. I can't pay for a new account. But need to make a thorough calculation if this is worth it. We are not talking about a single account but 5-10 new accounts.
A workaround I managed to find is putting it in a separate savings account. Two problems with it. There is an absolute minimum for that savings account. I can't save less than 1000 ILS. Also, it's limited to 3 months. So, every 90 days, I need to put it back on the savings account. That's cumbersome.
So, I haven't found a good way to implement the system in this book, unfortunately.
I also finished reading the book called Secrets of the Millionaire Mind: Mastering the Inner Game of Wealth by Harv T. Eker . Not a lot to say about this one. Nothing new there that I didn't know. 
I just started reading a book called The Cash Machine: A Tale of Passion, Persistence, and Financial Independence by Dave and Chana Mason

2020 READING CHALLENGE

Shlomo
has
read 8 books toward
their goal of
22 books.
LEARNING SPANISH
My wife and I keep learning Spanish together, and we enjoy this more and more. We now do several things:
We are in the middle of a course by Olly Richards: Spanish uncovered

We are taking live lessons with a community teacher from Costa Rica (Who last night told us she has more students now, during the lockdown).

A few weeks after we signed up for Olly's class, we got a signed copy of his book –

Short Stories in Spanish for Beginners (Teach Yourself)

.

It's not too easy, so it's not exciting and not too hard, so you don't get anything when reading. It's well written and has a vocabulary list and questions at the end. We enjoy reading it.
EXERCISE
I started another routine (Yes, another one!), and I hope to stick with it. My goal is to see my blood test improve in about two months because of that.
What's the routine? Well, I have the headstands, which I'm now able to do. Shell I add a video on the next report?
The 2nd thing is a 7-minute workout using this app
I do it almost every day with my daughter. She does some of it with me. It's fun exercising with her. However, I still don't like the exercise itself and not looking forward to it.
After listening to Atomic habits, I know it's a hard thing to stick with. Doing it with my daughter is one thing that helps me stick with it. Another thing is the result I'm expecting in two months with my blood test (nothing major, just trying to improve some parameters). And the last thing is seeing the streak in the app. It somehow makes it bearable 🙂
DECLUTTERING
So, in the mood for making my life simpler, I decided to change two things. As claimed in Atomic Habits, it's easier to improve our environment, then struggling to develop a new habit, or eliminate a bad habit.
Here are two bad habits we had in our house:
Getting rid of huge piles of dishes in the kitchen sink – We are pretty lazy about washing our dishes. This resulted that at some point, we had a massive collection of dishes to wash. It was just always more comfortable, to take another clean plate or silverware from the drawer. Not anymore. I put aside all but a few dishes and cutlery that we need for us. We are only three people. What happened is that immediately, we had a cleaner kitchen. As the piles of dishes are small now. This caused two things: a. Because we don't see a massive collection of dishes in the sink, we don't (or less) get the energy drain feeling when you need to cope with a big pile of dishes. b. The most massive collection can stay until the next meal max, as we have to wash the dishes to use them again.
Getting rid of large unfolded piles of laundry – We used to have a low table in our bedroom. That table became the place where we used to put our laundry after it dried. At some point (just like the dishes story), the pile of clean laundry became huge. The bigger, the less you want to deal with it. Then we decided to remove that table from the bedroom (It was a folding one, so basically putting it back in storage). The magic happened. No more huge piles. When the laundry is dry outside, we get it into the house, and most of the time, fold it right away and into our closet. At the times that it doesn't happen, that pile is on our bed. We HAVE to fold it, to go to sleep (only if we are lazy, we move it to the sofa in the living room, but this early happens.
So, I encourage you to see how you can change things in your environment, instead of struggling with bad habits. Go declutter!
FIRE MASTERMIND
We moved our meetings back to a weekly one instead of once every two weeks. It's a better schedule for us and keeps people on track
NOW OVER TO YOU
So, how is this update helping you?
Did you discover anything new?
Are you tracking your finances and see the progress?
Is this update too long? Boring?
Feel free to add a comment, I read them all and promise to reply.