Here is my monthly report of our personal net worth progress for August 2022 and other financial updates.
If you'd also like to see how much you are worth the way I do, I created this tool, especially for my readers. You can get it here.
Also, if you'd like to read the previous report to get the flow of things, you can check it here – June + July 2022 personal net worth update. Here are all the previous reports.
If you don't know what the net worth definition is, check it here.
Networth
Our net worth in the past two months changed by -2.03%
It's been a downfall for three months for us. It's not easy seeing this, but I'm confident long term it's going to be ok. And you know what's more? This brings more opportunities buying assets at a better price.
I said the same thing last month, but it's true for this month as well. Our portfolio kept declining, mainly because of two reasons:
The stock market down trend

Further drop in BTC and ETH rate.
Digital Assets
I now only hold a single niche website. Just a few days ago I crossed the $1500/month earnings from Ezoic ads. With the other revenue streams I think I'll cross the $1650 in September. And to only think I bought it at an average of $852 less than 2 years ago. That's 100% up in it's worth.
My cash flow after expenses was also nice last year. Around 17% of the ~$30K that I bought it for. For 2022 the numbers doesn't look good, but just because I'm heavily reinvesting in email marketing and CRO.
milestone achieved! Now at $1.5K/month .

I bought this website from Empire flippers when it made $852 on average on December 2020. So, almost double in less than 2 years! pic.twitter.com/oPNP9sJCd3

— Shlomo Freund (@FreundShlomo) September 7, 2022
I also keep looking for more businesses to buy. Seeing all kinds of them.
This is quite usual for me.
Websites to acquire I looked on today:
1. Stock trading course business. 67K students so far. 😲
2. Personalized travel SAAS – I like this niche. But it's 3 co-founders. So, i'm not sure I can run it myself.
3. 50s-60s unmonetized content site – has a good potential

👇

— Shlomo Freund (@FreundShlomo) September 7, 2022
Anyway, if you have an abandoned website with traffic you'd like to sell please reach out.

On the not-so-good side of things. My wife lost her job and looking for her next role. If you know of someone looking for VP/head of operation 100% remote role please tag them here:
Public Speaking
I'm working on new collaborations with people I've met at Bansko nomad fest. I'm finalizing a date for an online event with Andrae Smith from Workwanderers.com. Stay tuned.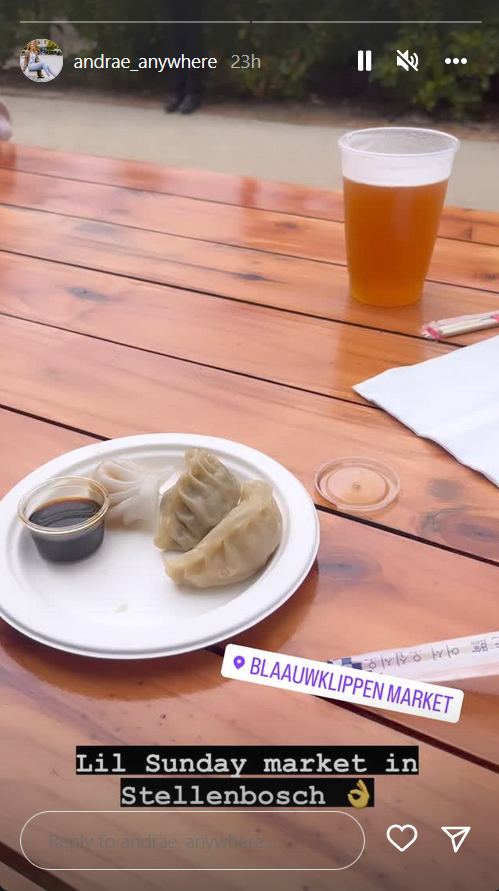 I spoke this week at the Digital Nomad expo which was a great chat with Erkan Munishi and John Lee.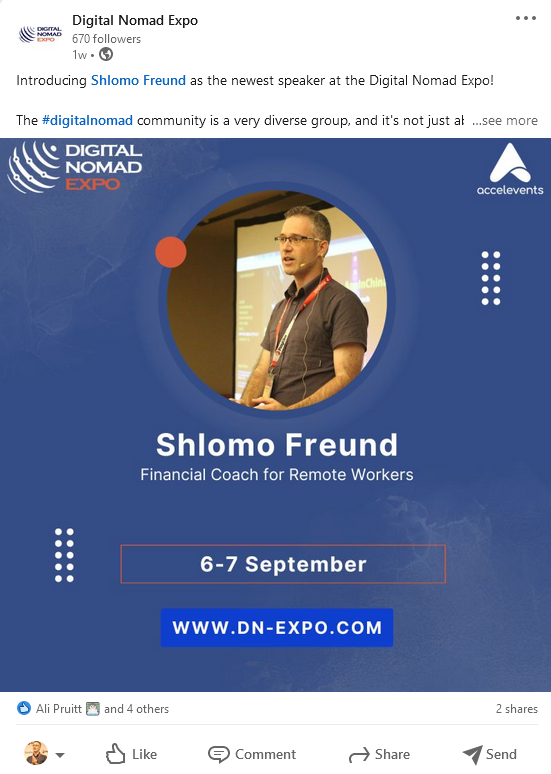 I'm also preparing for the Tech Job Fair talk about to happen on September 14th. Get your tickets here.
 

 

View this post on Instagram

 
Podcast
 This month I was also a guest in 2 Bulls in a China Shop podcast with Dan and Kyle speaking on an episode titled Shlomo Freund: Creator of Free Financial Self. We spoke a lot about finances and how we become digital nomads. Have a listen here:

This week's guest interview is with @FreundShlomo, digital #nomad and founder of https://t.co/7bu5e552RW. It's a day late but worth the wait!#investing #finance #podcast #indiepodcast #stockmarketshttps://t.co/qzRfQrpQIS

— 2 Bulls in a China Shop (@FinancialInept1) September 9, 2022
Bringing the community together
After coming from Bansko Nomad Fest, I started to get messages from Intros Club. They have a platform for introductions. And it works! I met wonderful people, some I already spoke to at the conference, some new. But we all have similar interests, as we were at the conference together. It just makes sense.
So, I'm building the same thing for Free Financial Self community on Intros Club.
Here is how it works:
Fill out this matchmaking form and indicate your frequency of intros (weekly, biweekly, or monthly).

Opt-in at the beginning of the week.

Receive personalized introductions in your inbox and opt-out anytime.

Sign up using the invite link here!
The Free Financials – Financial coaching group
On The Free Financials Coaching group this week we spoke about:
What is intros club and how it helps building a community

What change did I make in my niche website that increased earnings/epmv in 10% instantly.

New professionals directory building stats and learnings of my niche website.
The Free Financials is a monthly coaching group. Where I coach you to reach 1% increase in your net worth every month, along with sharing my stats and strategies, all open and recorded.
You can join here on a monthly basis and cancel any time or get my online course "How to achieve the perfect life-finance balance for remote workers" and get a discounted 1st month to The Free Financials coaching group as a bundle.
That's it for this month.