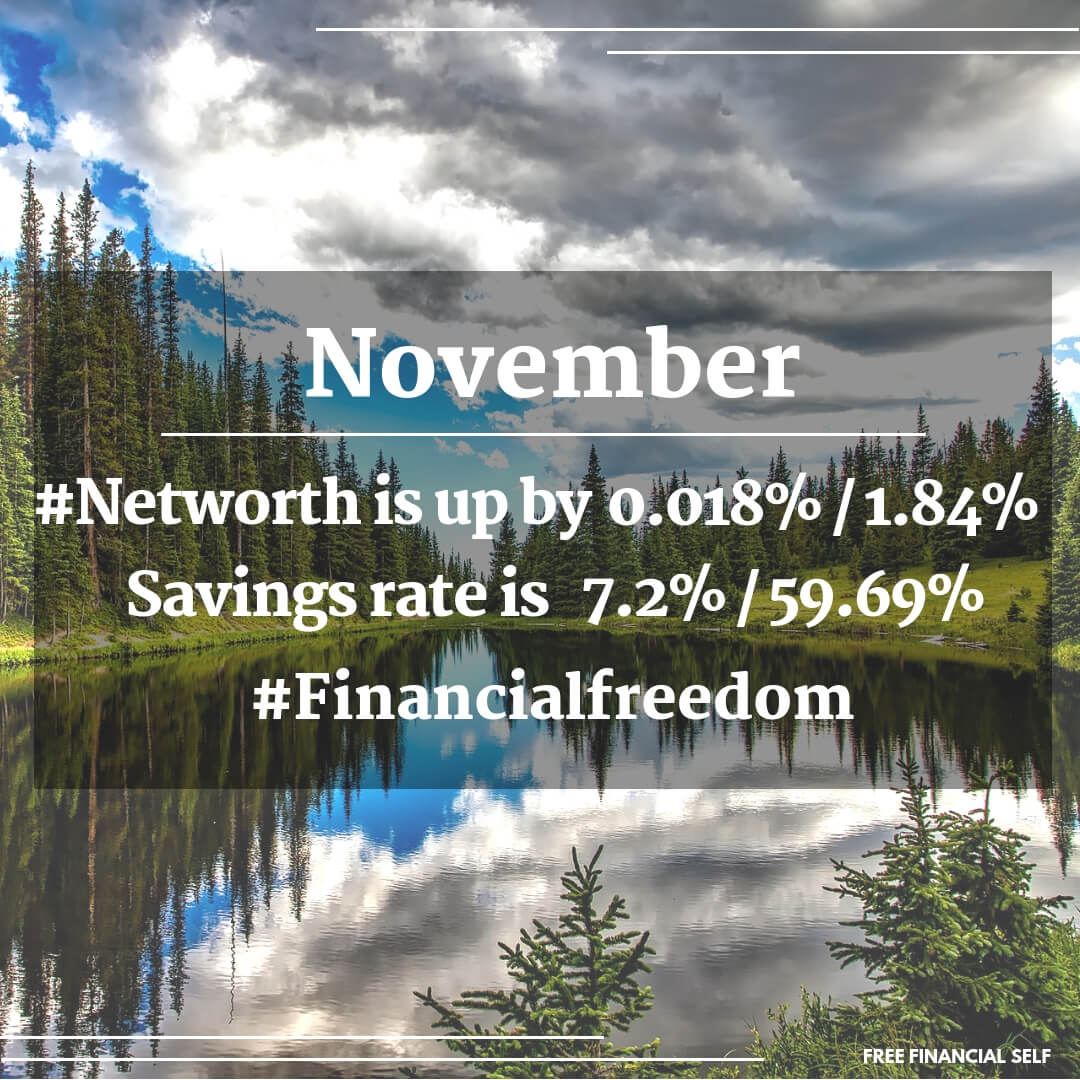 Here is my monthly post of our personal net worth progress for November 2018.
I'm sharing this to show how important it is to track your net worth and seeing the progress.
This is what I also expect and advise my clients. From tracking, you can learn of what works and what you should change in your finances.
This month Net worth is up by 0.018% / 1.84% and my savings rate is 7.2% / 59.69%
You are probably asking yourself why I have 2 numbers for my personal net worth and savings rate this month. The explanation is coming up. I promise.
If you don't know what the net worth definition is, check it here.
So, Read on.
In terms of personal net worth. Nothing too exciting happened for good or bad. I'll discuss this more on the detailed part of each investment.
Two major things did happen on the new investments front:
I decided this month to increase the amount I have on Envestio's platform and doubles it. The dividends this month from Envestio went up a bit and since I double the investment I, of course, expect the dividends to double too. More Passive income!
Envestio introduced this month more investment tiers from the same existing projects they already had running, all offering more than 20% interests rate per year. 
If you do decide to join Envestio through my link, you'll get an extra 5 € bonus + 0.5% cash back for the next 270 days after you invest
I made a mistake when choosing the project I should have invested in with these new funds that I added to my account. I didn't pay attention and I invested in a project that I already put a large sum there. So, now I have 50% of my Envestio money in a single project. Not so great in terms of diversification. The problem is I can't change it without a penalty on their system.
So, a note to Envestio's product manager: Perhaps a confirmation box or even showing how much money you already have on a specific project, when you decide to add more funds to the same one will be helpful.
Anyway, I learned my lesson.
   2. I mentioned on my October personal net worth report  that I'm looking at more real estate investment. So, I have some news. I moved onwards with investing in UK properties. I already spoke with an agent and supposed to start looking at concrete properties this week.
This is also the reason I decided to publish two numbers as my personal net worth and savings rate this month as I had to pay service fees to the agent I'm working with. So, it's definitely part of the expenses and not an investment. This specific payment was not for purchasing any specific property yet. Still, this will increase my savings rate and income within a couple of months.
Let's dive into the details of our personal net worth.
OUR PERSONAL NET WORTH ANALYSIS
Loans: For a couple of months I tried to renegotiate the interest rate I'm paying on my loans, knowing that they are already relatively low.  The bank said it's the best they can do. BUT…I did discover that they can give loans in foreign currency except of Israeli Shekels which is the regular currency I'm taking loans in. The interest rate on EUR as an example is still very low and it might be good to look into this if I decide to leverage a bit more another investment. The actual interest rate I'd know only once I file an official loan request.
US & Israeli Stock portfolio: Last month was pretty boring in that front. Almost no change. Is this the bottom yet? I don't know and it doesn't matter since I'm it's a long-term investment.
US real estate: I reported last month that some of the portfolio should have been sold and we suppose to get part of the sale principle back. So, yes it happened! The money is not yet deposited in the bank but it will be reflected in December personal net worth report.
Bitcoin: Another slash in bitcoin value this month.My Hashflare Mining is not profitable anymore. Also, Bitcoin prices take its toll by now. Like Giga Watt filing Chapter 11 going bankruptcy
Related: Crypto Mining Firm Giga Watt Files for Bankruptcy, Faces Eviction in Washington County
PERSONAL LIFESTYLE AND PROFESSIONAL LIFE UPDATE
Online classes: CulturalBility invited me to give a talk a few weeks ago to their audience. 225 people joined a WeChat group to listen to my talk called: "From CHAOS to CONFIDENCE in your future finances". I got good feedback on it which was great.
The next talk is already set with Shenzhen Party as a media partner. Check out the next event here where you can also register to join.
If you'd like to organize another online event with me. Please get in touch.
Mentorship: I joined Travelpreneur Tribe as a mentor for small businesses building their online business. They have retreats around the world where the next one will be in New York City this coming February.
So, if you'd like to start your location independent business check out their webpage for the coming retreat.
I probably can't make it to that retreat but there are 3 more planned for 2019 in Europe and I may be able to join one of those. If you came through my website to the retreat, please let me know, I'd love to meet you there.
There will also be a live interview I'll do with them in a few days. Check out this Facebook Live event
Reading: My reading pace slowed down in the past month. I think it's because in my mind I reached my yearly reading goal. I'll increase that goal for 2019 to 18 books (2018 was 12).
I'm now reading an excellent book about how our memory works and how memory techniques evolved. It's casual read and super interesting. Check it out: Moonwalking with Einstein: The Art and Science of Remembering Everything 
The most important thing I take for myself is that in order to remember we need to link a piece of information to another memory in our mind. That will make the memory sticky in our mind for longer (or forever hopefully).
This month I also lost a childhood friend of mine. He died when he was only 40 years old, leaving a wife and 4 kids. Over the years I found out that I don't remember a lot from events on general and especially not childhood events and memories. But since I'd like to remember him even more,  I'm hoping to do a get together of all our (my and his) other childhood friends tell stories about him. This is so I can remember him better, linking to other memories I already have in my brain.
Anyway,  I invite you to follow my Goodreads profile and read along with me. I'd love to share ideas.
I invite you to follow my Goodreads profile and read along with me. I'd love to share ideas.
Traveling: Our Sri Lanka trip is finally here. We booked our tickets for mid-December flying to Colombo. We will stay there for 3.5 months.  So, if you are around, let me know. My next monthly report will be from there.
NOW OVER TO YOU
Do you track your personal net worth? What insights did you get this month? Add it in the comments.