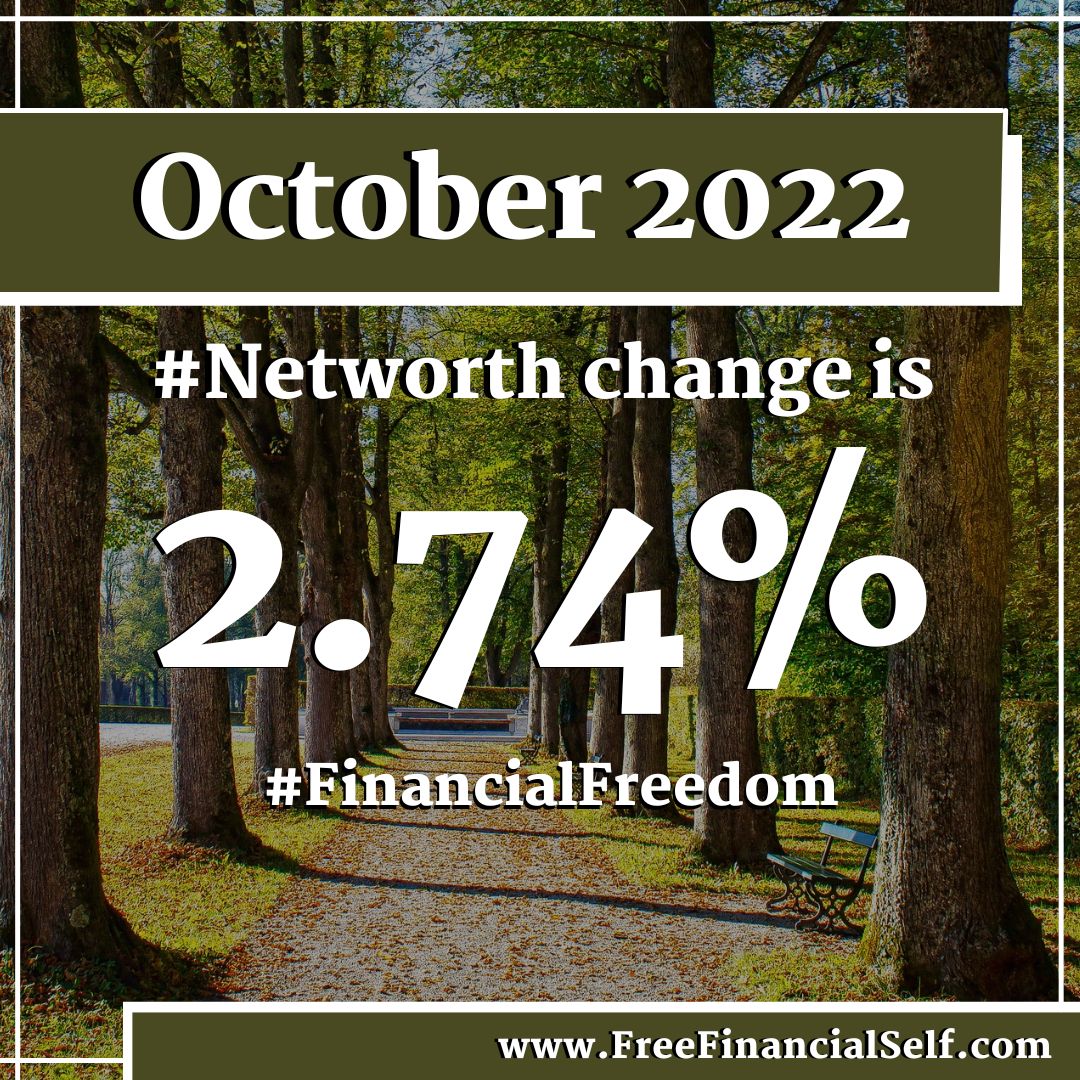 Here is my monthly report of our personal net worth progress for October 2022 and other financial & personal updates.
If you'd also like to see how much you are worth the way I do, I created this tool, especially for my readers. You can get it here.
Also, if you'd like to read the previous report to get the flow of things, you can check it here – September 2022 personal net worth update. Here are all the previous reports.
If you don't know what the net worth definition is, check it here.

Networth
Our net worth change in October was 2.74%
The world has gone nuts, and net worth is going up.
In the last month, we've dealt with many family issues, more news on this in 1-2 months.
The market is still unstable and the long-term trend is unclear. However, I know that in my stock portfolio I have high-quality discounted stocks that have significant upside potential.
Some of what influences are networth growth is my wife not working now. After 5.5 years in various roles the company she worked for had to fire her.
So, if you are looking for an operation manager, please get in touch. She is looking for a 100% remote role.
Digital Assets
I mentioned last month that I bought a new website with 30K users a month. I'm glad to say the traffic is going up.
I see a lot of opportunities on that one, to grow and monetize it.
Since I bought it I:
1. Added Ezoic as the ad network instead of Adsense.
Created a staging version so we can develop it further safely.

Added some affiliate offers for Canva

Build a development roadmap for the next few months.

Installed a chat option, so I can get in touch with the users, and see what they want.
It's a big project, and I enjoy doing it and grow it.
My other website, however, was hit by recent google updates and the traffic is currently declining. I'm working with an SEO consultant to fix this and hope it will recover. it's still making ~$1000/month.
So, overall I'm holding two websites now.
Anyway, if you have an abandoned website with the traffic you'd like to sell please reach out.
Public speaking
Last June I spoke on stage at Bansko Nomad Fest. So, was super excited to get a message announcing the publishing of the recording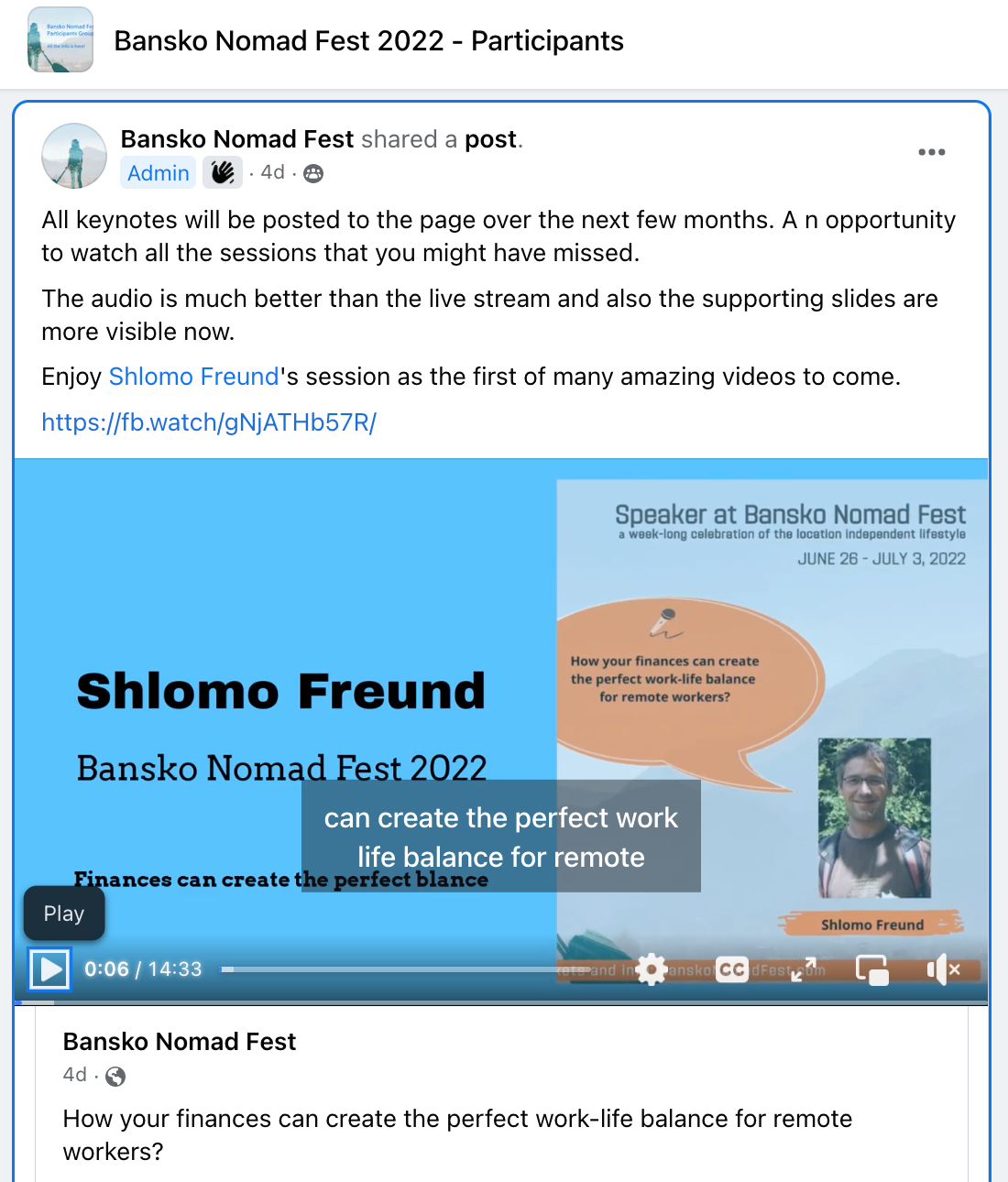 Here is the recording. Enjoy! 

Bringing the community together
After coming from Bansko Nomad Fest, I started to get messages from Intros Club. They have a platform for introductions. And it works! I met wonderful people, some I already spoke to at the conference, some new. But we all have similar interests, as we were at the conference together. It just makes sense.
So, I'm building the same thing for the Free Financial Self community on Intros Club.
Here is how it works:
Fill out this matchmaking form and indicate your frequency of intros (weekly, biweekly, or monthly).
2. Opt in at the beginning of the week.
3. Receive personalized introductions in your inbox and opt out anytime.
Sign up using the invite link here!

The Free Financials – Financial coaching group
On The Free Financials Coaching group this week we spoke about:
Detailed explanation of the progress of the new website I bought.

How I cope with the changes on my old website and declining traffic.
The Free Financials is a monthly coaching group. Where I coach you to reach 1% increase in your net worth every month, along with sharing my stats and strategies, all open and recorded.
You can join here on a monthly basis and cancel any time or get my online course "How to achieve the perfect life-finance balance for remote workers" and get a discounted 1st month to The Free Financials coaching group as a bundle.
That's it for this month.